November 22nd, 2014
When I first blogged Olivia Jackson, she was new to getting her tits out for the lads.
The blog includes her first two sets of photos and videos.
That blog came out on the eleventh of September, this year. The (thirteenth) anniversary of, well, 9-11.
I bring up the date because today, 22 November, is the (fifty-first) anniversary of the assassination of JFK.
That struck me as a bit spooky.
Regardless of the date, 36JJJ cup Olivia is back, this time with a hardcore scene from Scoreland
With a shockingly huge (but seemingly not fat) ass, Olivia is carrying a butt befitting a beautiful, black babe as she.
That's one heck of a booty she bears. See the video below (at 22 seconds in), to see that phenomenal ass.
That 46″ bum is balanced out by a set of ginormous JJJ's, with a chest measurement of 49″. Her tidy tummy and trim waist give her a humdinger of an hourglass figure.
See the video (from 15 seconds in) for the best tit-wank evah. Olivia's big breasts are pancaking as she reclines, she pushes the puppies up and they engulf the penis that's getting the pleasure.
Despite the chap having a perfectly acceptable sized cock, the wee, white lad's length seems tiny when it is being fucked by Olivia's beautiful, bounteous breasts.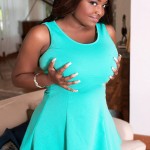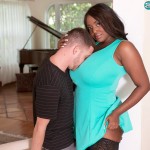 Click here to visit Olivia Jackson at Scoreland.com
Share and Enjoy