Oh, the trials and tribulations of running a big boobs blog! Can you even begin to imagine what it's like waking up every morning to an e-mail in-box overflowing with breasts? I know, I have no one to blame but myself when I subscribe to services like BigTitHound's boob-mail, but a lot of the time I receive shed-loads of unsolicited tits as well. Sometimes, it's a pleasure, like when Taylor Stevens stuffed my box with her 40HHs. Other times it just becomes tedious, especially when the vast majority seem to think that a DD-cup is big (*rolls eyes*). However, I have to say that some of the best come from MyBoobSite's readers, who turn me on to some genuine whoppers!
Still, the amount of photos and videos I have to endure sometimes gets the better of me. It's worth it, granted, for the few true treasures I come across that end up appearing here, but the rest do tend to get boring and predictable after a while. Vix & I often look at these together, as boredom seems so much better when shared. But it gets pretty bad: We'll be watching a porn video someone's sent to promote and, at the height of passion when the female lead reaches a screaming orgasm whilst the male's cumming buckets over her tits, we'll both exclaim in unison, "Look! They've got the same couch as us!"
You start looking for anything out of the ordinary (and, no, I'm not talking about the 6'2″ she-male who'd sent Vix & I a set of full frontal photos showcasing her F-cup breasts and matching 8-inch cock). No, it's just the little things, really: Like when the videographer is standing on the bed to capture some aerial action and you suddenly get a glimpse of his feet. Even more amusing is when he's getting so turned on by the scene that his raging hard-on pops into the frame, eclipsing the actors. Do all porn videographers have a tendency to work nude? And, if so, haven't they heard of something called "editing"?
Speaking of surprises, I particularly enjoyed the beginning of this video clip from BustyAdventures.com, which finds a naked Eva slumbering peacefully in her bed when, unexpectedly, a big, black pussy leaps into view (it's a hairy one too, mind)! ;~) Priceless. As the video continues, Eva's joined by a couple of friends – with said pussy having long since had the common sense to vacate the premises – and the remainder of the 35+ minute movie degenerates into a convivial carnal cavalcade of lesbian sex, blow-jobs, tit-wanking, sucking and fucking in the oh-so-predictable FFM threesome format. Eh, what else would you expect when the male member bursts into view, spouting such memorable dialogue as, "Pick of hands, who like dick?"
Oh well, since we've come this far, I might as well share a few more video galleries from the BangBros' Busty Adventures: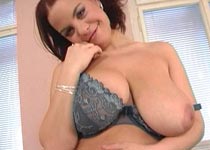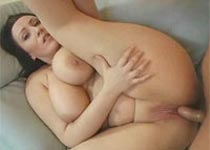 CLICK HERE TO VISIT BUSTY ADVENTURES
Share and Enjoy
→ Return to MyBoobSite for More Big Tits ←