Hmm. We've had quite a lot of Abbi, of late, haven't we? Well, she's putting the work out, and as such, we have a lot to share. Mind you, there's enough of her ample bosom to go around. This is part 2 of the one we shared a couple of weeks ago.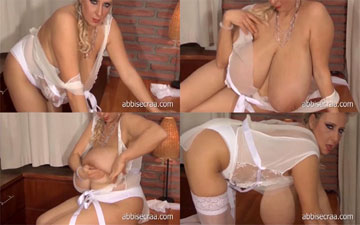 She still can't keep them in.
And, I believe I should also share Reese's apology I received when I was disappointed by the following video. Once again, Reese has managed to make us think we are going to see one thing, when we are actually gonna see something completely different.
There is a distinct lack of lactation, coming up. I am kind of perplexed by what Abbi is doing here with her L-cup lady-lumps. Bamboozling breast bizarreness.
Loading the player…
(click here to download video preview)
The actual .mp4 HD video available for download on her site is 1920×1080 resolution, so I've included some full-size vidcaps as well, all from AbbiSecraa.com.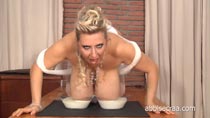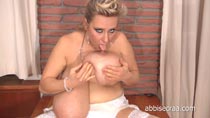 CLICK HERE TO VISIT ABBI SECRAA née NELLI ROONO AT ABBISECRAA.COM

Share and Enjoy
→ Return to MyBoobSite for More Big Tits ←