A frightening epiphany struck me late last night when, in wondering why I hadn't blogged on MyBoobSite for the past two days, I suddenly realised to my abject horror I'd become a bit bored with big boobs! :~o Indeed, my sexual fantasies of late have been taking me more down the pussy path as I search for the ultimate Earth Mother – perhaps in her early-20s with just reasonably large breasts but more generously endowed down below – to re-enact a most sensual series of intensely erotic youthful memories that have been replaying relentlessly in my sex addled mind.
However, in a desire not to abandon our big breast loving community, I thought it best to take a visit to my new favourite boob site – BigTitsGlamour – to seek out an effective antidote for my present apathy toward huge tits and get things back on track only to be met by this…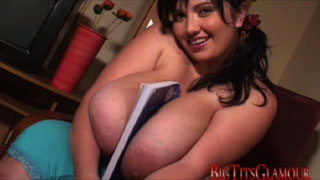 …yes, it seems that lovely Alicia Loren has just contributed her very first video to the site! As the scene unfolds, we find the exceptionally well endowed Alicia lounging about and having a good read in her easy chair. However, it's not long before she becomes quite obviously distracted by the colossal cleavage encroaching upon her peripheral vision and can't resist getting the big girls out of her massive JJ-cup bra for some quality playtime (eh, happens to the best of us). What ensures is and solo oral orgy of self tit sucking with Alicia managing to hold each of her huge breasts aloft in turn by their nipples alone in a delightful demonstration of sheer suction power!
And so, to tide you over with tits until I can drag forth the fulfilment of my fertile fantasy, here's the incomparable 36JJ Alicia Loren in self tit sucking videos from BigTitsGlamour.com: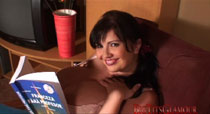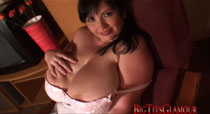 (note: actual videos available for download from the site are 1430×1080 resolution)
CLICK HERE TO VISIT 36JJ ALICIA LOREN AT BIGTITSGLAMOUR.COM

Share and Enjoy
→ Return to MyBoobSite for More Big Tits ←