This is going to be a bit of a catch-up blog, as I was visiting Divine Breasts this morning and noticed some new content from two of my favourite big tit models there that I've been rather incomprehensibly neglecting as of late for no legitimate reason whatsoever.
The first is 36JJ Alicia Loren. The last time Ms. Loren appeared on MyBoobSite was for her birthday, and that wasn't even a proper blog (being moreso belated greetings to the busty beauty herself)! No, the last proper blog of Alicia was way back in May, so she's certainly long overdue. Indeed, keeping this incredibly gorgeous girl with perfectly pendulous breasts and seemingly endless cleavage all to myself would be nothing short of a crime against humanity (or at least that subset of the Venn diagram that big breast lovers occupy). Mea culpa, mea maxima culpa.
And so, making up for lost time, here's the lovely Alicia Loren flopping her perfect JJ-cup breasts out on the bed and pulling her nipples in these big tits pics that come courtesy of DivineBreasts.com…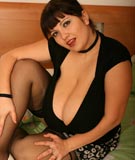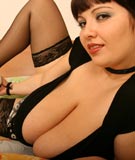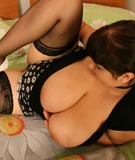 (note: actual photos available for download from the site are 1500×1000 resolution)
CLICK HERE TO VISIT 36JJ ALICIA LOREN AT DIVINEBREASTS.COM
…the second is 38J Ann Vanderbilt, whom I'd recently learned had previously gone by the name of Morgana thanks to your comments here (a fact which was later confirmed by Ann herself on this blog). In one such comment, MyBoobSite reader mungb went so far as to propose that Ann Vanderbilt was the new & improved Morgana!
And, thinking about it, I couldn't agree more. In fact, she's come a long way even in the brief two years she's been modelling topless for DivineBreasts! Although I've always found Ms. Vanderbilt stunningly attractive and love the way her huge tits hang down her torso, I have to admit she seemed a bit harsh in her first appearances on the site – holding back as if she wasn't having a good time. However, as time went on, I noticed an ever greater degree of comfort & confidence creeping into her work and even caught her smiling on occasion!
Nowadays, though, it's hard to find a single photo on which sexy Ann's inner beauty doesn't shine through. My only complaint now is with her bras – which are obviously too small (as evidenced by her beautiful J-cup boobs succumbing to "quadraboob syndrome")! Personally, I think this is the result of her measurement technique as seen in the last few photos below. If she'd just get herself a nice, soft cloth measuring tape instead of that unyielding stainless steel monstrosity, maybe her bra sizing would be a bit more accurate (and making proper measurements wouldn't go amiss either!)!
But this is but a minor inconvenience, as I much prefer seeing lovely Ann's big breasts naked, totally dominating her voluptuous figure as they do. In fact, having previously seen such exceptional sideboob photos as this, I would dearly love to see the view from behind to witness the sublime curvature of her massive breasts peeking out from either side of her ribcage, offering a subtle clue to their hugeness (hint, hint).
Whilst I await her photographer to pick up on my hint for her next photo shoot, here's the beautiful 38J Ann Vanderbilt from DivineBreasts.com: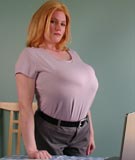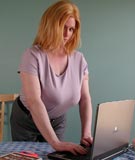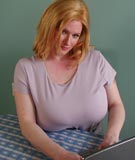 (note: actual photos available for download from the site are 1500×1125 resolution)
CLICK HERE TO VISIT 38J ANN VANDERBILT aka MORGANA AT DIVINEBREASTS.COM

(webmasters)
Share and Enjoy
→ Return to MyBoobSite for More Big Tits ←