MyBoobSite Breaking News: At 1300 on November 10th, 2008, My Boob Site Central received word that 36JJ Alicia Loren had been kidnapped and was being held for ransom by big breast site BigTitsGlamour as evidenced in the following photo received at the time of the tip-off…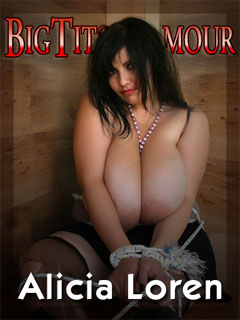 …the informant providing the tip was Jessica Pink, big tits photographer extraordinaire and regular contributor to MyBoobSite's Forums, who has since become the prime suspect after admitting point-blank to having taken the photo in question. As of this date, no details of ransom demands have been forthcoming for the release of our captive cleavage queen, and suspected perpetrator Ms. Pink remains at large. We continue to monitor developments in this shocking story shaking the big boobs world to its very core and will provide further updates as more information becomes available.
All kidding (or kidnapping, as it were) aside, from the moment our lovely Jessica provided me with the above photograph, I was totally beside myself and couldn't wait for the release of the rest of this seductive series (which, joy of joys, was posted today on BigTitsGlamour). As I'm sure you're all well aware, MyBoobSite has been following the exceptionally endowed JJ-cup Alicia Loren ever since her topless debut at DivineBreasts as Alicia 36JJ nearly three years ago. However, I must say that I've never seen luscious Alicia looking more sexy than she does in these new photos – the tousled hair, smudged lipstick & makeup and torn stockings completing the big breast bondage fetish kidnap fantasy to "udder" perfection, her huge boobs slipping seductively out of her top as she frantically struggles to release herself from the ties that bind her being the coup de grâce.
It wasn't all that long ago that I'd decided Big Tits Glamour was my new favourite on-line destination for the fulfilment of my extreme breast fetish – their sensual selection of big bust models already including such favourites as Anna Love, Bianca Bloom & several others under the expert lens of Jessica (although she'd informed me that someone else had taken Anna's photos) – leading me to dub them the hands-down true masters of mammary arts taking big breast photography & videography to its highest state of rarefied perfection. However, these latest photos of 36JJ Alicia transcend even my greatest expectations to the point where I can only elevate both Alicia & Jessica to goddess-like status.
Kudos to them also for being the first to actually tell us a little bit about the wonderful women behind the big boobs. In Alicia Loren's case, we learn that she's a 25-year-old mother of two who enjoys movies, long walks & cooking. Born in Romania, she lived the first years of her life near Brasov, a lovely town in the Romainian mountains and, in more recent times, has worked as a secretary for some years after receiving her college degree in administration. While I'm sure a lot of guys merely harbour a "show us your tits" attitude when it comes to beautiful big breasted babes like Ms Loren, I rather prefer the implied intimacy of knowing something more of their lives apart from their modelling.
And so, rounding out today's blog with more massive breasts, here are a few more summarily stunning preview pics of our exceedingly hot heroine Alicia Loren with her heavy hangers held hostage at BigTitsGlamour.com: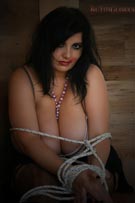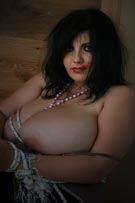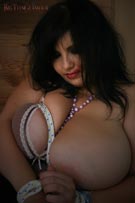 (note: actual photos available for download from the site are 1536×1024 resolution)
CLICK HERE TO VISIT 36JJ ALICIA LOREN AT BIGTITSGLAMOUR.COM

Share and Enjoy
→ Return to MyBoobSite for More Big Tits ←