Sounds like one of those spam e-mails, doesn't it? But, no, I'm not flogging herbal supplements with a mix of fenugreek, fennel, wild yam & saw palmetto – natural though they may be – nor am I seeking to promote some of the more gimmicky alternatives like Bust-Up Chewing Gum or F-cup Coffee (not to mention that Bolibao breast enlargement drink that earned it's producers a steady $300,000US per day before it's advertising was banned). Instead, I'm talking about the tried and true method that has been blessing women with bigger breasts since the dawn of mankind…getting pregnant!
Now that's something you never see in your spam-box: "Want bigger boobs? Just stay in bed and get up the duff!" It's probably because no one can make any money from it (except perhaps obstetricians, maternity nurses & midwives). Increased breast size is one of the first signs of pregnancy, with the most rapid growth occurring within the first eight weeks. Your results may vary, of course, but statistics show that the average gain is about 400cc in terms of breast volume (and implants of that scale can be enough to boost your bust-line by three cup-sizes!).
Caveat emptor, however, as these results can be ephemeral. In many cases, the breast enlargement experienced prior to parturition may be lost postpartum after breast-feeding is complete (for example, those fabulous F-cups you've gained might shrink back to their original, conservative C-cup size (this is precisely why some women opt for implants after childbearing in order to "refill" their now-deflated breasts (and fair play to them, as the surplus skin stretched beyond capacity in the prior process of breast expansion makes for a most natural looking result and accounts for some of the best boob jobs I've ever seen!))). So the moral of the story is enjoy those magnificent maternal mammaries while you can.
It was my mate Cel who inspired today's musings on motherhood and its benefit of bigger breasts when he told me about new model Monica on his XX-cel site. It seems that Monica had travelled West from Romania in search of fame and fortune, and all she ended up getting was pregnant (well, that's not entirely true, as she also got some boobs out of the deal as well!). Although her tits aren't huge by our standards, the dramatic breast growth that Monica apparently experienced nonetheless stands as a testament to the positive effects of this particular all-natural breast enlargement option (I just wish I had before and after photos to share with you).
And so, let today be a celebration of preggos – those future MILFs with milk-laden mammaries who inspire big breast lovers like myself to look at pregnancy in an entirely different and more alluring light. Apart from the obvious joys of motherhood, I'd also recently come to appreciate the expanded sexual potential of the mother-to-be as aptly evidenced in Monica: Beyond the breasts (which look scrumptiously squishy, by the way, and have just started lactating), I found myself drawn Southward over the contours of her huge belly and down to those delightfully distended pussy flaps just begging for a good suck. And, for having such a relatively tidy ass revealing a posterior perspective from which you can barely tell that Monica's pregnant, isn't that "sidewinder view" in the 6th photo below just stunning?!
Here's more of pregnant Monica courtesy of XX-Cel.com: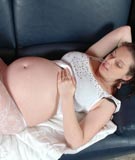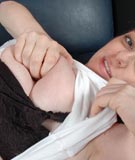 CLICK HERE TO VISIT MONICA AT XX-CEL.COM

Share and Enjoy
→ Return to MyBoobSite for More Big Tits ←