I'm having a bit of a problem, guys & gals, and was hoping that you could possibly help. As you know, I tend to like to say something about the models featured here on MyBoobSite rather than just going "here's the tits" and being done with it. Trouble is, there's often very little information accompanying the promotional photos & videos I receive – sometimes not even the model's name – thus making my job exceedingly difficult.
Sure, there are a few on-line resources that help me in my quest. Wikipedia, for example, offers a list of big-bust models and performers with fairly extensive stats and some good biographical information, as does the more big tits specific Boobpedia (the latter of which boasts over 1,000 models to their credit). The even more extensive model directory at Score's eBoobStore listed a massive 2,749 big tits models (at last count (with 299 entries for the letter A alone, although none for Q)), but only provides information like the model's measurements and the sundry Score releases within which they've appeared.
Thus, I'm largely at a loss when attempting to illuminate you on the whys and wherefores of some of the busty beauties I encounter in my on-line excursions and, many times after exhaustive research, am happy just to have a name and a cup-size to accompany their pics! So, if any of you know of additional resources where I can get the low-down on some of these girls, I'd be eternally grateful.
Case in point: The lovely Anna Song. Although I've blogged her before when she appeared as Tina on THA2, the most I know about her comes courtesy of Anna's ImLive profile for when she does webcam work. From that we can see that she's a 20-year-old curvy bisexual female (well, duh, on the latter) with 32GG breasts who enjoys roleplay and talking about sex and pursues photography as a hobby. Fair enough, but I'd like know more. How did she get into topless modelling, for example? When did Anna first realise she had big boobs and how did she come to accept her ample assets? What sorts of things does she look for in a potential partner, sexual or otherwise? Does she like Marmite?
Okay, perhaps I'm too inquisitive. I do understand that some models like to keep schtum about their personal lives and not share too much, apart from their bodies, with their adoring fans. Still, I'm a writer, dammit, and I need to know these sorts of things in order to… well… write! Maybe I should just be content that these girls get their tits out for us from time to time and leave it at that. Thus, I guess all I'm left to say, painful though it is, is "here's the tits" – specifically, those of 32GG Anna Song from her most recent appearance at DDFBusty.com…
32GG Anna Song photos at DDFBusty: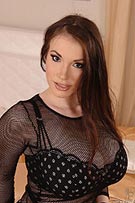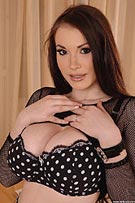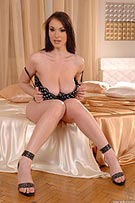 32GG Anna Song videos at DDFBusty: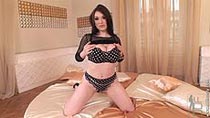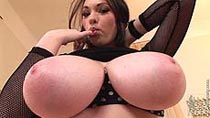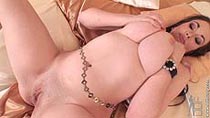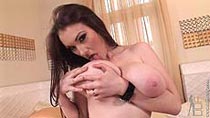 CLICK HERE FOR MORE OF 32GG ANNA SONG AT DDFBUSTY.COM

(webmasters)
…however, if you'd like to get a bit more personal with Ms. Song and her GG-cup breasts, bear in mind that you can always log on and have a friendly, sexy chat with Anna courtesy of ImLive. It's nice to see more and more models opening themselves up to the on-on-one attentions of their adoring fans. In addition to Anna, we've already got the lovely likes of Samantha, Alicia, Sabrina & Micky taking advantage of this medium, granting us the opportunity to get a little closer to the big boobs we know and love and the well-endowed women who wield them.
So, if you do decide to have a chat with Anna, you might be so kind as to ask her a few of the questions that have been plaguing me about her for quite some time (I'd be happy just knowing the answer to the Marmite one, in all honesty). Here's a link to Anna's fan site:
CLICK HERE TO VISIT 32GG ANNA SONG AKA ONEFALLENANGEL LIVE ON WEBCAM AT IMLIVE.COM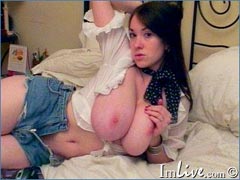 (more big tits webcams from ImLive.com)
Share and Enjoy
→ Return to MyBoobSite for More Big Tits ←