This week, extra large breast loving boys & girls, I shall mostly be boob blogging big tits models who double up as extremely well-endowed webcam girls for ImLive. Why? Well, let's just say I've been seriously getting into cyber-sex cam-porn of late, not so much as a first-person participant in said intimate and interactive live videochat sessions with voluptuous women but, rather, as a sexually insatiable virtual voyeur by virtue of their archived recorded sessions of big boob cam chat shows gone by (but more on that later).
And who better to start with than BigTitsGlamour's super busty beauty Anorei Collins whose ultra large breasts have grown from a full LL-cup to NN-cup proportions (a 40HH bra size, to be precise), according to a recent update in her ImLive profile page! Here's amply adorable Anorei titfucking a bottle with a blowjob bonus (hmmm, s'been done before, methinks) courtesy of ImLive.com…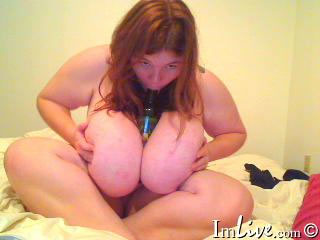 …but my newly acquired perversion preference for busty webcam porn honestly has nothing to do with the jiggly J-cup breasts I'd found there the other day. No, my voyeuristic cam porn perversity runs far deeper than my boob fetish big breast obsession alone. You see, I tend to be very particular about the porn I masturbate over (who isn't?) and my private porn collection is rather limited in scope. However, I've recently added 36 new videos to my visual erotica archive which just so happen to be such stored webcam sessions as may be found on most big tit cam models' profile pages.
It was one super sexy webcam video that got me started on my quest for new and more sexually stimulating porn masturbation material in the first place; a 26-minute cam movie of a most beautiful busty MILF seducing one of her private webcam viewers into getting his cock out for her and jerking off so she could "taste his cum" or, even better yet, to use her words exclusively ('though mere porn prose in written word cannot even begin to capture the sultry, seductive, dulcet tones of her super horny sexual desperation in conveying her deepest desires as she breathed these words heavily at her mutual masturbation buddy on-line), "I love it when guys jack off in my face close up and jizz on me. Jizz for me. I want you to cum for me like that. I want to make you cum now. Please, cum in my face and let me take your spurting cock head cumming in my mouth and suck it down, every last drop."
Of course, I only got to see and hear her side of the sex story on the wanking webcam replay, but witnessing this well-endowed woman's not so subtle seduction techniques of massaging her breasts and using an open hand in her cleavage to simulate a titfuck and trusting upward with phallic fingers entering her mouth through pouty lips poised in the perfect blowjob position was nearly more than my poor self-abused penis could take, let alone when she let her tit fondling fingers roam southward to her soaking wet pussy obviously turned-on to the max judging by the audibly squishy sounds her vagina made whilst rubbing her clit and spreading her labia lips wide with one hand so the other could to plunge three fingers deep inside her cock-hungry carnal cavity for a little lady-wank so she could cum to orgasm for her virtual fuck-buddy encouraged by the urgency he expressed imagining his wanking fist to be her pussy and her fingers his cock cumming to simulated coitus completion of this sexually satisfying erotic encounter well consummated with her sexy post-orgasmic sighs.
Sorry, I seem to have lost myself in that recollection when I should be talking tits about the ever lovely Anorei Collins instead! And, since we were talking webcams here, how apropos that her latest sexy series at BigTitsGlamour is aptly entitled "Contact" but, rather than contacting Anorei Collins as the title would suggest, it seems more a matter of the contact of her gigantic tits on a table top supporting those perfectly pendulous breasts of massive mammary magnitude with ease (heh, talk about taking a great weight off your shoulders!)! And so, for those of you who prefer big boobs porn of a more voluptuous high-resolution variety than I, here's simply stunning, superbly sexy Anorei Collins in a pulchritudinous preview selection of mega big tits pics coming colossal cleavage courtesy of BigTitsGlamour.com: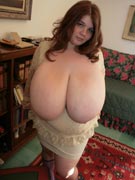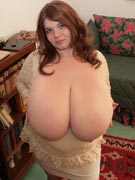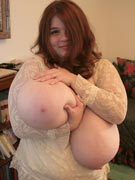 CLICK HERE TO VISIT 40NN ANOREI COLLINS AT BIGTITSGLAMOUR.COM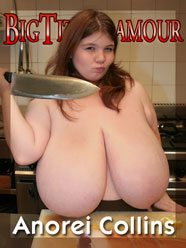 Share and Enjoy
→ Return to MyBoobSite for More Big Tits ←