First things first, I feel the need to warn you all that I'll be away much of next week and thus not blogging. Vix & I have decided to take a little trip to Paris for a few days, as we've got some free time and neither of us has ever been to France. Who knows? Perchance we'll have the opportunity to hook up with our mate Cel from XX-Cel.com whilst we're there! In any case, I just wanted to let you know and ask forgiveness for my absence.
Speaking of Cel, he's recently recruited Anya Sakova (aka Busty Merilyn) to join the panoply of pulchritudinous models at his site. Now, the last time I blogged Anya with regard to her getting into hardcore porn, one thing I noticed is that she didn't even so much as break a smile the entire shoot. I know that I've complained about this before; I don't know if they're attempting to acquiesce to others' expectations or pander to some preconceived notion of what looks sexy, but some of the contrived facial expressions these models adopt give me the distinct impression that they're just not having a good time of it.
Porn should be fun, in my humble opinion. If you're not enjoying yourself and what you're doing, you should find an alternative profession. Back when I was shooting hardcore videos, some of the best bits were when those appearing in said XXX flick fell about laughing. Let's face it, sex can be funny, and letting yourself go to the point that you can have a hearty laugh about it simply demonstrates that you're totally comfortable with what you're doing. In contrast, there's so much porn about where everyone sadly seems so deadly serious about sex, it makes you wonder if they'd rather be engaged in some other activity.
Such is not the case, however, in 32GG Anya's latest shoots for XX-Cel (yes, she's grown to a GG-cup now, and with such a breast obsessed pedant as Cel, I've no doubt he surreptitiously scans the labels on his models' bras after they stripped off for a shoot). I've honestly never seen Anya smile so much as she does in these two inaugural series for the site, and I must say that it does my heart good to see that she's genuinely at ease. Perhaps "Uncle Cel" simply inspires confidence in his models, enabling them to achieve a degree of comfort they don't get with other porn producers.
Whatever the case and despite the fact that it's unlikely to distract me from looking at her huge tits, it's good to see our GG-cup goddess smiling in a manner to imply that all is well with the world of big boobs porn. *contented sigh* So here's 32GG Anya Sakova in her first two galleries for XX-Cel.com:
Anya Sakova 32GG gallery 1 at XX-Cel.com: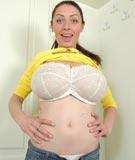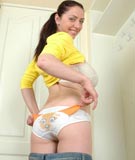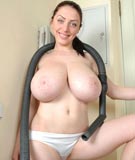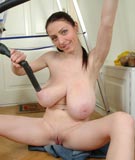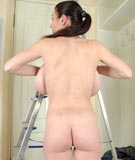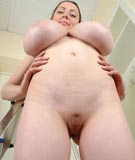 Anya Sakova 32GG gallery 2 at XX-Cel.com: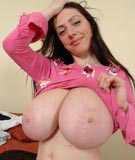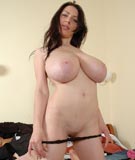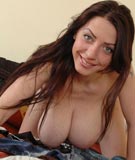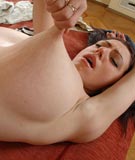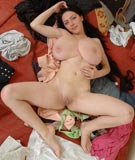 CLICK HERE TO VISIT 32GG ANYA SAKOVA AT XX-CEL.COM

Share and Enjoy
→ Return to MyBoobSite for More Big Tits ←