Do I have a "Top 20″ in terms of big boobs models? The reason I ask is that I'm currently embroiled in an e-mail discussion with my mate Frank who started our exchange with the following (paraphrased)…
Frank wrote:

Gotta tell you that I think the world of the great job you do of featuring the gorgeous women that you do on your site.

However, I have an issue with an omission from your top 20 breast list-rrrrr < ---drum roll... Merilyn Sakova.

I've been checking the ladies on the internet since '95, and I don't recall ever seeing a beauty as spectacular as that of Merilyn Sakova. Great legs, great feet (look great in pumps), great thighs, great flat stomach, great arms, GREAT ass (can almost see muscle in there), great looking face (wart and all-just add a little normality), great head of hair.....I'm missing something here, but it's skipping my mind exactly what it is.

I've been a huge fan of her's ever since she broke onto the scene back in '05 and your site was actually where I first took note of her.

She's not in your top 20? I'm glad you're not a judge-a lot of people would be hanging.... whether they deserved to, or not. -)

Just had to speak my piece. Keep up the great job.
…now, correct me if I'm wrong, but I honestly cannot recall ever having published a "Top 20″ list of my favourite big breasts. Have I? Since our intitial correspondence, I've searched and so has Frank, but neither of us can find any record of this. In fact, thinking about it now, I'd be hard pressed to even come up with such a list since my fancies tend to wander so frequently with all the big breasted beauties available! Sure, I've got a handful of all-time favourites from the heavy hangers set that have fuelled my fantasies consistently throughout their careers, but I don't think I could come up with 20. [Hmmm. Perhaps I should take this up as a personal challenge!]
As for everything else Frank said about Busty Merilyn aka Anya Sakova, I would have to agree. I've been a fan ever since I first blogged her toward the very beginning of MyBoobSite. To see the contrast of those huge G-cup boobs against her tiny slim-n-stacked frame rated her amongst the truly well-endowed wonders of the world. In our further correspondence, Frank went on to say that he feels Anya's best pictures ever could be found on RubMyBoob.pl – and, as Frank said with glowing regard to this particular series, "No toys, no fetishist themes (why bother? Her whole body is a fetish)…just her and that stunning beauty and sensuality of her's."
And so, Frank, in honour of your appreciation for Anya, I thought I'd share a few of the photos from that particular series with the rest of the world. Thus, here's 32G Anya Sakova nude courtesy of RubMyBoob.pl…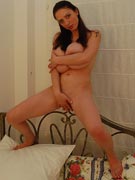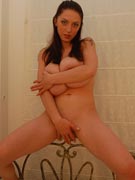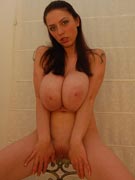 (photos courtesy of RubMyBoob.pl
…for those of you who like to extend the fetish potential well beyond Anya's beautiful body, I should probably also point out that they have plenty of that sort of thing at RubMyBoob as well! For example, what would it be like if we trussed up Anya's huge tits in a tight red corset and then handed her a big pink dildo? Well, we need only revisit her at the site for a graphically explicit answer to that question and more…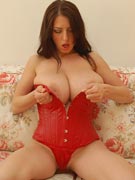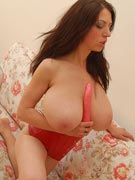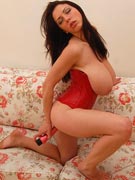 …as our discussion continued, Frank also revealed that he'd learned from their webmaster that Anya's photographer for these photos was none other than lovely F-cup MILF Exanti who also stars on the site! As I've not blogged Exanti for over a year now (despite numerous requests – sorry about that), I thought I'd include her in today's post as well (hmmm, I wonder who takes her photographs?!). And so, in conclusion, here's big boobs photographer beauty behind the scenes Exanti – in front of the camera this time – in these photos & videos from RubMyBoob.pl: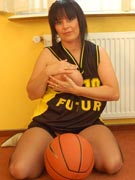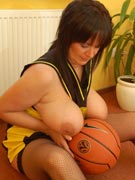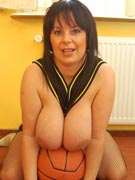 CLICK HERE TO VISIT ANYA & EXANTI AT RUBMYBOOB.PL

Share and Enjoy
→ Return to MyBoobSite for More Big Tits ←