I've been meaning to tell you all about what's been happening lately over at TopHeavyAmateurs, but it kept slipping my mind – that is, until I stumbled across this particularly sexy series of 32G Anya Sakova which served as the erotic inspiration to refresh my memory. However, more on that in a minute as I've got to tell you the THA / THA2 saga before it slips back into the aethyrs again.
Right, then – remember TopHeavyAmateurs2, the sister site they'd started to accommodate the big boobs overflow from their original site? Well, it doesn't exist any more (blimey, wherever will the lovely 32EE Liz live?!)! Not to worry, though, as they've merely consolidated all of their busty models into one website. What's more, they've reformatted their model directory to include all of the 120+ well-endowed women who appear there arranged conveniently by breast size from a D-cup to a K-cup!
The best news, however, is that they've dropped the price – so, rather than paying $24.97 to sign up for THA and then doubling it for access to THA2, or even taking advantage of their dual signup deal for $34.97, the combined content of TopHeavyAmateurs 1 & 2′s 67,000+ pictures and 2,000+ minutes of videos is now available for just $27.97! Ah, I do love a good deal on a good deal of big tits.
But back to Anya Sakova, the super-busty slim-n-stacked siren who'd served as a sexy reminder of this momentous merger. Her latest series for the site which finds Anya posing nude on a glass-top table curiously prompted me to pay closer attention to her genitalia than ever before (and, although Anya's got big pussy flaps well worthy of my vagina blog, let's be real – it's her huge breasts balanced against the contrast of her slender frame that makes Ms. Sakova so special).
In particular, it was the first shot below of Anya's naked pussy through the glass table-top which gave me my reason for blogging her today. While I've blogged the topic of tits-on-glass here before (and there are indeed plenty of photos in this series wherein Anya has her G-cup breasts pressed down upon the table for that unique pancake view of her nipples & areolas), I don't think we've ever done pussy-on-glass before!
And, besides, considering Anya was the first model I'd ever blogged from the THA site (her being my mammary motivation for visiting there in the first place), it seems only appropriate that we revisit her today in light of their announcement. And so, here's 32G Anya Sakova – pussy- & tits-on-glass – at TopHeavyAmateurs.com: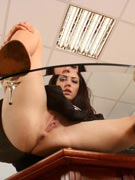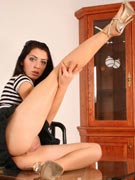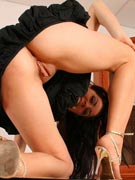 CLICK HERE TO VISIT 32G ANYA SAKOVA AT TOPHEAVYAMATEURS.COM

Share and Enjoy
→ Return to MyBoobSite for More Big Tits ←