After my last Ashley Sage Ellison at Score blog, I received a lot of comments saying that Ashley didn't smile nearly enough in her photographs. Two of MyBoobSite's readers, Soluzar & Steven, went on to reminisce over adorable Ashley's early work, citing her cute smile and girl next door look as prime factors in the adorability equation. This prompted me to examine some of her later work at the Dream of Ashley site as well, affirming the fact that Ashley does indeed smile there as well…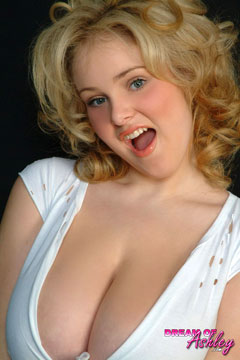 …and so, as was the case in yesterday's blog, I again find myself revisiting a recently blogged big boob model to elicudate at length on minor maxillofacial matters rather than the massive mammary minutiae I blogged on Monday. I'll admit that Ashley's Score shoots seem somewhat somber in comparison to her more bubbly big boobs bared with a smile work with the DreamOfAshley breast fetish folk. Why, even when former said megasite paired her up with Smilin' Karina Hart, Ashley only managed to crack a sort of half-smile once in the small selection of promo pics they'd provided! To their immense credit, though, they did manage to get Ashley naked (not once, but twice, and that's just judging by what I've seen in galleries)!
Perhaps, as Soluzar said, we should blame the folk taking the photos rather than poor Ashley, as he's right in saying that nude and topless models tend to do what a porn photographer asks in terms of facial expressions or bodily positions. Then again, it could be the harsh lighting and sterile environment of the typical profession porn production studio sadly sapping her smiles away in stark contrast to the more comfortable and homey conditions she'd enjoy at an amateur porn shoot. Even with all other things being equal, sometimes you just gotta give a girl a little something to smile about (as I so wish Score would try with Ashley!) in order to elicit the desired maxofacillary muscular response to the amusing stimulus at hand.
Thus, in due deference to big breast lovers who desire to see a more happy, smiley Ashley (although I must admit I do adore her sexy sultry look), here's a healthy selection of beautiful big tits photos featuring a not-so-rare smiling Ashley Sage Ellison at DreamOfAshley.com: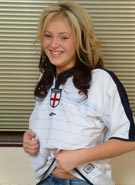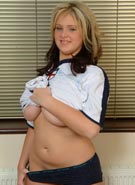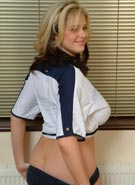 CLICK HERE TO VISIT "SMILING" ASHLEY SAGE ELLISON AT DREAMOFASHLEY.COM

(webmasters)
Share and Enjoy
→ Return to MyBoobSite for More Big Tits ←