alt Bad Lesbian Sex with Hitomi Tanaka
Considering the last time (which was, in reality, the first time) I boob blogged Hitomi Tanaka XXX 'twas but a softcore handful of busty Asian nude photos…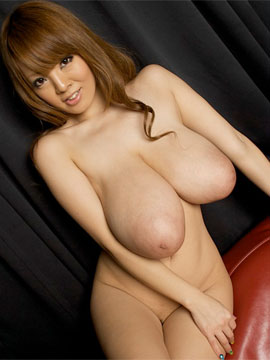 …I thought I'd up the ante and move closer toward the XXX side of things with a few Hitomi Tanaka videos from the site. Not wanting to get totally hardcore as yet, though (since there's plenty of fucking for the future), I decided to go straight down the middle-core (or would that be medium-core? which, in turn, would appear to imply there's an over easy-core to porn as well) road of girl-on-girl action.
Now, as you've no doubt noticed above, I was originally planning on entitling this tit blog "Bad Lesbian Sex with Hitomi Tanaka" but, having watched this busty Japanese porn video again, the lesbian sex isn't so bad after all. There's a big oily boob massage, tit-to-tit nipple-on-nipple small-to-large breast size comparison (surprisingly in which there's no big boob envy evident whatsoever), girl-on-girl tit-sucking, naked sexy lesbian cunnilingus and grope tit frottage reach around boob fondling from behind are just fine and lovely. However, it's that last clip which leaves me a distinct impression the less well-endowed Asian girl is not a very good lesbian. It would be one thing if they were engaged in a busty lesbian strap-on sex sort of situation…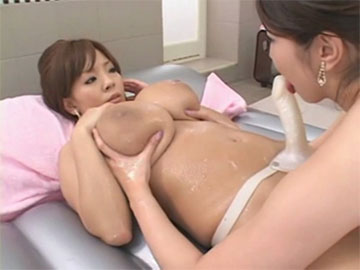 Video clip courtesy of HitomiTanakaXXX
…but it's just two Asian girls getting it on without any such anatomical accessories whatsoever. Why would this make them bad lesbians, you ask? Well, all well and good in getting two girls grinding their pussies together, but it still strikes me that doggy-style is not the best sexual position for lesbians bumping doughnuts (well, unless the fuckee has a particularly small ass and the fucker is unusually well-hung for a girl)!
What's more, after their failed lesbian fuck attempt, not so super busty girl down on her hands and knees turns around and, cupping hands over cunt with face in crotch, starts bobbing her head up and down as if she's trying to give Hitomi Tanaka a blowjob! Was she expecting a phantom penis to appear on pussy in an Asian hermaphrodite fantasy sort of manner? All in all, it just seems she'd be happier if her lesbian lover had a cock cleverly concealed beneath her massive breasts, thus my considered sexual assessment she makes a bad lesbian.
Then again, perhaps it would all "cum" clear if I understood Japanese but, being in the dark about the dialogue, I'm just not sure what their porno pursuits are all about. Maybe it's meant to be a Japanese sex instructional video wherein huge hooters heroine Hitomi is learning the erotic art of fucking from the female perspective and not a lurid, lewd and lascivious lesbian liaison in the least; you know, like a young cock curious girl practicing sex with a girl before a penis comes into play.
Whatever the case, it's nice to see extra busty Japanese AV Idol Hitomi Tanaka with her massive mammaries in motion for a change (oh, and aren't those gigantic puffy areolas amazing in their own right?)! Here's the ever beautiful Hitomi Tanaka sharing her huge pendulous breasts with her less busty girlfriend (or perhaps sex teacher, depending upon which interpretation is right, if any) in (what may or may not be) busty Asian lesbian videos from HitomiTanakaXXX.com: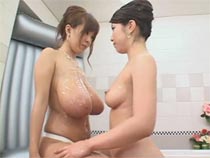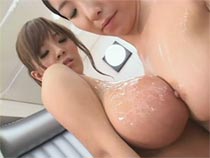 CLICK HERE TO VISIT BUSTY ASIAN HITOMI TANAKA AT HITOMITANAKAXXX.COM

Share and Enjoy
→ Return to MyBoobSite for More Big Tits ←