What do you do when you're sleeping, sweetly and soundly in your bed and a burglar forces entry to steal your jewellery? Scream and holler? Reach for your mobile and call the police? Or biff the assailant over the head with your huge tits then fuck him senseless?
Well, I guess that depends on whether you are built with two huge H-cup hooters to use as weapons of self defence like the lovely, 26 year old, Jamaican jewel Maserati, or not. As seen in this funny but very sexy video from DDFbusty.com
Loading the player…
(click here to download video preview)
There's some serious liquidity to the movement of those massive mounds as Maserati sucks and fucks and gets fucked by this masked marauder and he slaps her big, round ass for good measure, too. (Actually, her butt is not that big. With measurements of 46-24-39 she is a nigh-on perfect hour-glass.)
We are assuming that her chest measurement of 46″ and her H-cup are not actually put together as in a 46 H, but that she would be wearing a 38 H-cup bra. Still nothing to be sniffed at, in fact, still a total knock-out.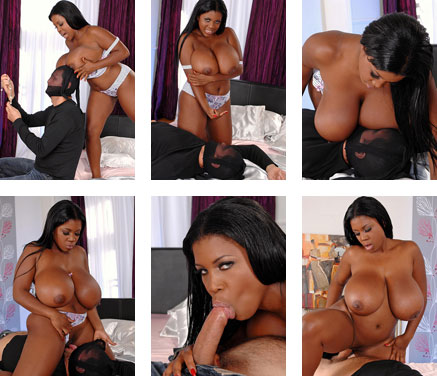 CLICK HERE TO VISIT H-CUP MASERATI AT DDFBUSTY.COM

(webmasters)

Share and Enjoy
→ Return to MyBoobSite for More Big Tits ←