I was thinking we hadn't included Gya Roberts, on MBS, for some time, perhaps even a year (when we included her in this post, from December 27, 2011) but I was wrong, we also used her is this post from June 25, 2012, so it's not as bad as all that.
However, it got me thinking that we do not see enough of HH-cup heavy goddess, Gya.
Again, I was reminded of her when I got an update from Scoreland's XLGirls to post on Tumblr.  How could I possibly not manage to find the time to actually feature her, properly, all on her own.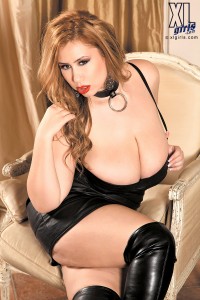 Now, XLgirls may be the plumper side of Score, and sometimes I struggle to see why a certain model might be there.  Not so with Gya.  Personally, I would not class her as a BBW, because as she is obviously all Woman and quite Beautiful, I wouldn't class her as Big.  Plump or chubby or thick, but not big.  Not when you think of some of the women that fit that particular niche.
Her tits are big though.  There's no denying that HH- (or, if you prefer, I-) cup cannot be described as anything but.  See those sexy fun-sacks spill from this complicated looking outfit: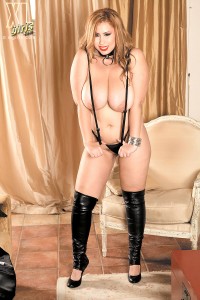 Thankfully, it appears that the outfit is not as complicated to get out of as it appears (to me, anyhoo) to maybe get into.  Gya is out of it lickety-split (as it were) to share with us not only her voluptuous curves but her hairy hole, as well.
Actually, that's not quite true.  She wears her pubic hair front and center, but she is smooth as, when it comes to her pretty fanny-flaps.  Best of both worlds!!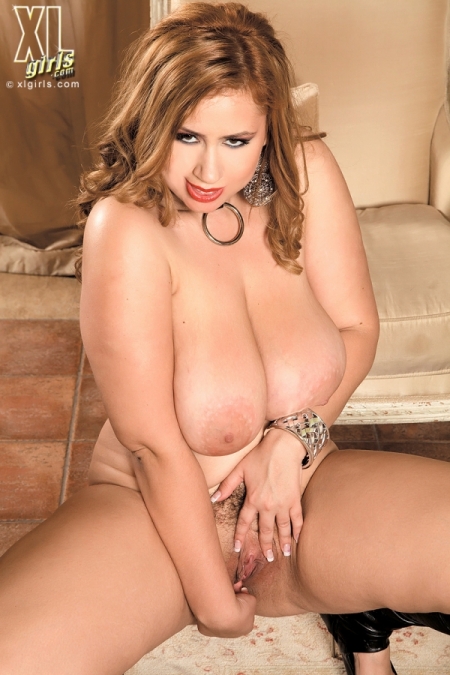 CLICK HERE TO SEE MORE FROM GYA ROBERTS ON XLGIRLS.COM
CLICK HERE TO SEE GYA AS SEXXBOOOMB, LIVE ON CAM ON IMLIVE

Share and Enjoy
→ Return to MyBoobSite for More Big Tits ←