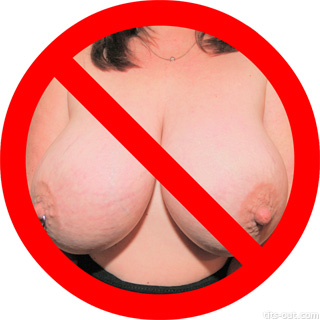 It's true! According to an article in this week's UK Vogue magazine, I'm sad to report that big tits are out and flat-chested girls are back in fashion. This apparent back-lash against big breasts has been blamed upon the recent economic downturn and cites that the washboard look is quickly becoming the "new cleavage". Dubbed the "breast barometer of economic prosperity", it stems from the idea that "abundant breasts are a crass symbol of over-consumption and that, in the face of economic belt-tightening, they become threatening – and must be banished."
Even sadder is the fact that this was not the April 1st edition, so prepare to be bombarded by a mass media onslaught of boyish-looking "sticks without tits" in the future, as there's already been a boom in the market for minimiser bras and bandeau tops which serve to push any offending boobage well out of sight. And those formerly under-endowed women who'd opted for the op to give their boobs a busty boost are now returning to their plastic surgeons in droves to go under the knife once again – but, this time, to have their breast implants removed!
Whatever are big breast lovers like ourselves to do? Is our big tit supply going to dry up forever?? And, if so, whatever will become of MyBoobSite?! I suppose, if worse comes to worst, we shall have no choice but to wax nostalgic over those heady days of economic boom when big boobs roamed freely across these great lands of ours and well-endowed women weren't afraid to show a little cleavage. Yes, I rue the day not yet arrived within which retro-porn will be our only recourse in order to satisfy our voluptuous lust for ample breasts and womanly curves.
Speaking of retro-porn, today found me perving over at Porn Access – a truly massive collection of over 1,300 individual websites with over 11,000 feature-length movies all accessible through one subscription – when I came across one of the first big boobs porn videos I'd ever downloaded. Dating back from before the turn of the last century, it featured a beautiful busty blonde by the name of Cathy Patrick fucking her photographer. Although I wasn't terribly fond of blondes at the time (my how times change), I was instantly enraptured by this woman and just had to download her whole video. Unfortunately, it had been long lost for the past decade when my now-ancient computer crashed and had never been seen again.
Thus, it was a big boobs blast from the past when I was as long last reunited with my first porn download and got to witness the wonder of Cathy Patrick once again courtesy of PornAccess' Double-D site…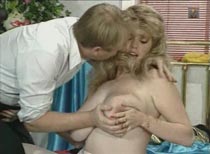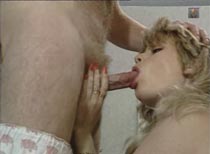 …I cannot count the times I'd wanked over this girl back in the late-'90s, rubbing my dick raw at the sight of her mounting her mate cowboy-style with those big boobs dangling in his face. I imagined the divine weight of her ample body pressed down upon mine, reaching up to fondle heavy handfuls of breast-flesh whilst her long blonde hair brushed across my face as she bounced atop me, relentlessly grinding her pussy up and down over my cock. If only I had a horny, busty blonde succubus of my very own who was willing to have sex with me in this fashion, it would be a fantasy "cum" true!
Disturbingly, it became a bit of an obsession for me that lasted for quite some time, and it only took that one video! Images of Cathy's "woman on top" sex scene invaded my mind at the most inopportune times, causing an embarrassing erection when I wasn't in a situation where I could do anything about it, making me want to escape from whatever I was doing and find a place where I could just be alone and masturbate to this sexy scene playing over and over again in my head. Little did I know or acknowledge it at the time, but I'd inadvertently hurled myself head-long into porn addiction.
I later came to learn that being addicted to porn is a very dangerous thing indeed, disrupting one's regular life as it had mine all of those years ago. In fact, I most recently came across this article in Wired postulating internet porn is worse than crack! To quote one expert, "Pornography really does, unlike other addictions, biologically cause direct release of the most perfect addictive substance. That is, it causes masturbation, which causes release of the naturally occurring opioids. It does what heroin can't do, in effect."
The ubiquity of easily accessible 'net porn was rendering this an epidemic, as a porn addict could have "[this] drug pumped into your house 24/7, free"! One panelist on a committee testifying against the virulent scourge of porn even went so far as to brand this "new drug" with a name – erototoxins – and recommended that a thorough study be made in hopes of eliminating the protection that pornography enjoys under the guise of freedom of speech. However, a sexologist also present at the hearing did question the validity of the panel for not including anyone of the opinion that "pornography is not particularly problematic in most people's lives".
So where does that leave all of us? Well, personally, I was ultimately able to overcome my own porn addiction through simple over-saturation. Ever since starting MyBoobSite, I've been inundated with so much in the way of big tits hardcore videos & photos that I've become totally jaded to it. In fact, if I'm going to be perfectly honest with you guys, there is only one very specific type of porn that will even give me a hard-on any more, and all the rest I can take with a grain of salt (hmm, is that just sad, or is it a good thing?).
Still, I do accept the potential of porn addiction to be a very real problem, and I am not just taking the piss here. So, if you fear yourself sliding down the slippery slope of the porn addict and just masturbating your life away, there are plenty of on-line resources that can help set you well on the road to rehabilitation and recovery (and, no, I don't mind losing a bit of readership if any of you are genuinely having serious issues with this).
However, if you'd like to try my full-immersion method of overcoming this malady, then I can offer you no better resource than than the huge Porn Access family of sites. They've got something for everyone (except myself, of course) and can cater to most every possible fetish in grand style with over 4 terabytes of video content. But, because this is MyBoobSite, I'll leave you to explore these other perverse examples of sexual deviation on your own and just focus on the tits in the rest of today's video galleries.
And so, with that in mind, here's but a bit more from the multi-mega-dose of massive mammary madness that is PornAccess.com:



CLICK HERE TO VISIT PORNACCESS.COM

(webmasters)
.
.
.
← Oh, and special thanks to Vix
for letting me ban her boobs! ;~)
Share and Enjoy
→ Return to MyBoobSite for More Big Tits ←