Last night, I received an e-mail from the lovely Abbi Secraa asking what I'd thought of her latest Relaxing Bath movie and hoping I didn't find anything wrong with it. Find anything wrong with it (although, to be fair, Abbi did put a smiley after that bit of her inquiry)?? However could I?! After all, it had a stunningly beautiful busty blonde with the biggest breasts naked in a bath tub! What more could a big boob lover who prefers blondes want (well, apart from the soapy tit-wank of his life, perhaps, but I'm trying to be polite)?.. ;~)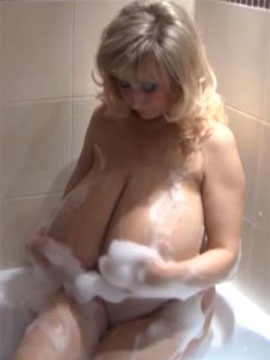 …(so, with that in mind, I shall offer Abbi Secraa my sentiments in a poem):

My dearest Abbi~
I offer my apologies
To you of massive mammaries
As I just hadn't had the time
To watch you bathing breasts sublime.
But what true tit man worth his salt
Could ever dare to dream find fault
With videos of your fleshy pecs, see?
You make macromastia sexy!

[admin edit: Now that was a bit of a stretch!]

As if, indeed, there was a trophy
For virginal breast hypertrophy
Your unreal rack would win with ease
Because you have the best titties.
So surely none who see your chest
Could pass this concentration test
Since big boob lovers lose their wits
Exposed to your gigantic tits.

[admin edit: Best get to the point, now.]

Pursuant to our dialogue
I've watched your film and wrote this blog.
So I'll now post it, clips and all,
Yours humbly, at your beck and call,
~Reese! :~)
…there, contrite correspondence complete, it's time to get on with the clips! Albeit but a brief preview to the most erotic excellence of this magnificent mammary movie, I've chosen my scenes carefully in an effort to provide the best perspectives upon Abbi's huge pendulous breast perfection with boobs hanging down to her belly button and wet tits jiggling in the water. And so, bathing her giant boobs nude in the bath in super-sized soapy tit splendour, "udderly" amazing Abbi Secra in her Relaxing Bath video at AbbiSecraa.com: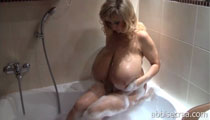 CLICK HERE TO VISIT ABBI SECRAA NEE NELLI ROONO AT ABBISECRAA.COM

Share and Enjoy
→ Return to MyBoobSite for More Big Tits ←