Big boobs blowjobs have been a recurring theme for me as of late, and who bigger to give a big tits dream blowjob than beautiful super busty redhead Sapphire with her lovely and luxuriously large L-cup breasts?
Ah, but how to solicit oral sex from a girl? 'Tis a tricky business indeed for us guys as it's not always so easy to just ask your girlfriend if she'd like a load of cum in her mouth. In contrast, girls who like to suck big, hard cocks giving a blowjob to completion to obtain that tasty trademark "hot drink through a fat straw" (tm Vix) have it relatively easy. You just have to go up to a random guy and whisper seductively in his ear, "I want you inside my mouth with my lips locked tight around the base of your swollen shaft so I can feel those first sensual surges of orgasm as cum courses through your throbbing cock, your pulsing penis compressed between my tongue and soft palate as you squirt your spermy load down my throat to be swallowed with a satisfied gulp," and, chances are pretty certain that she'll be in there (or, more accurately, you'll be in her, throbbing away as she bobs her head to and fro until your well sucked cock explodes in orgasm for that fresh cum filled mouth feeling you can only get from sucking dick). S'not fair, really.
So it was refreshing to see the penis equipped protagonist in sexy Sapphire's latest oral sex video from Big Babe Blowjobs prefers the straight-forward approach: "How are you doing, Sapphire? … Will you suck my cock?" And, miraculously, it seems to work on our redheaded massive mammary maiden as, no sooner does he whip his dick out of his pants – slapping his cock on her huge tits in the process – that she descends upon his penis like a cock hungry cock sucker on cock sucking day before lying on her back for a supine suck whilst he rests his balls on her boobs!
Upon adequately lubricating his penis with her warm, slippery saliva, the two take a momentary blowjob break so he can plunge his cock into her colossal cleavage for an L-cup titfuck – although it's not long before he thrusts his cock in to her conveniently open mouth for some tit fucking cock sucking combo action. Then, it's out of her tits and onto a chair with 38L Sapphire on her knees giving him head with one of her huge breasts crushed against his leg whilst the other boob dangles freely between his legs. She finally finishes him off with some stand up sucking as he reaches down to fondle her tits as his cumshot lands squarely on the tip of her tongue.
Quite pleasant, all in all – but, then again, is there any such thing as a bad blowjob? Well, now that you mention it, my first slut girlfriend – practical penis prankster that she was – once decided in a fit of prick tease perversity to take the term literally! :~o Ah, but that's a whole 'nother story and I'm sure you'd all rather just see Sapphire sucking cock instead. And so, here's the stunning voluptuous 38L Sapphire giving a beautiful big boobs blowjob in these photos & videos from the appropriately named BigBabeBlowjobs.com:
38L Sapphire Big Tits Blowjob Photos from Big Babe Blowjobs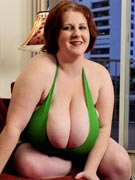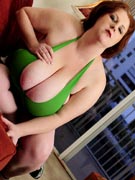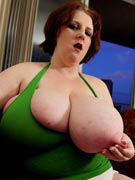 38L Sapphire Big Tits Blowjob Videos from Big Babe Blowjobs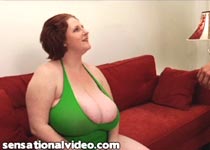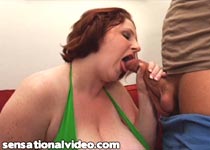 CLICK HERE TO VISIT 38L SAPPHIRE AT BIGBABEBLOWJOBS.COM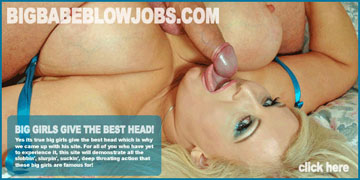 (webmasters)
Share and Enjoy
→ Return to MyBoobSite for More Big Tits ←