A couple of weeks after my Cosmid video blog of busty Jessie Minx…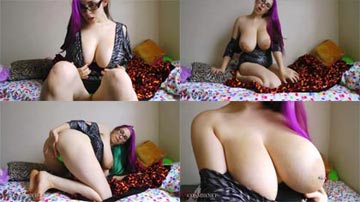 …I received an e-mail from My Boob Site reader Rich asking me to check out another busty goth chick at Cosmid called Larkin, leaving me with a link to a video clip which was a total big tits tease, ending just a wee bit before this one (i.e. even before lovely little Larkin lifts her t-shirt high enough for us to see the curvaceous contour of tattooed breast flesh exposed below as her tits fall out as shown in this clips from Cosmid.net)…
Loading the player…
(click here to download – full HD video from Cosmid is 1280×720 resolution)
…my first thought, of course, was, "Ouch! Whomever would get tit tattoos on her inframammary folds (well, Larkin would, obviously)?! That's gotta hurt!" My second thought being, "What's with all of these busty goth girls getting purple hair of late?" And, finally, my third, "Why would anyone post a breast fetish video clip which goes up to where a girl's about to flash her tits and stop right there before breasts bare?"
Although I never did figure out the answer to my second question, I was able to get a pretty good crack at the other two. To wit: A bit of frame-by-frame sleuthing revealed that maybe the inframammary tattoos on her tits were meant to mask the obvious incision scars under her breasts where implants had been inserted (yes, Larkin has fake tits, based upon close-up evidence, although I'd later learned she'd already admitted that in her stats). Ah, but I like large augmented breasts as much as tits all natural (despite the popular misconception), just as long as it's a boob-job well done.
However, the answer to my third question proved even more revealing in that it was a matter of my own breast perception. You see, seeing cute little Larkin with her big tits in a tight t-shirt in that clothed cleavage clip above makes her boobs look huge! But, once she strips her shirt off, her tits aren't as big as they at first seemed as shown in this cocoa butter boobs massage video of Larkin from Cosmid.net…
Loading the player…
(click here to download – full HD video from Cosmid is 1280×720 resolution)
…so, are big tits in tight tops just a form of diabolical breast deception by women who want us to believe their boobs are bigger than they actually are? Just another "trick of the tits", as it were? Or is it the erotic allure of braless boobs with cleavage concealed in a tits tight t-shirt feeding our large breast expectations beyond realistic estimation?
Who can say? Anyway, since I've already come this far, I might as well share one more video clip showing the breast sex act for which I feel fake tits are better than real (based upon personal experience). Thus, once again, here's not quite so busty but still tits fucking sexy goth girl Larkin giving a titfuck (albeit in the simulated sense) in her new video from Cosmid.net:
Loading the player…
(click here to download – full HD video from Cosmid is 1280×720 resolution)
CLICK HERE TO VISIT LARKIN AT COSMID.NET

Share and Enjoy
→ Return to MyBoobSite for More Big Tits ←