For being one of my favourite DivineBreasts models, I've not devoted nearly enough blog-space to the lovely Ann Vanderbilt…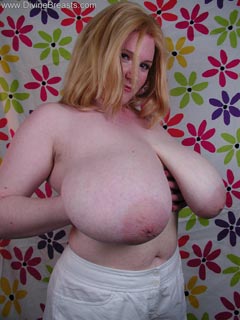 …at a J-cup, Ann's breasts are nearly as big as Alicia's and then there's the major bonus that she's blonde! Looking back, I find that I've only properly featured her once on MyBoobSite (after a brief introduction) and, since then, only given her bit parts here & there along with other models from the site.
The trouble is, although Ann has perhaps the most marvellously malleable mammary glands I've ever seen – and, indeed, if MyBoobSite gave an award for the best big floppy tits, Ms. Vanderbilt would be the hands-down winner – she doesn't really do much ("shy and retiring" is one phrase that springs to mind when I think about Ann).
But I really don't mind the demure demeanour and relative immobility, as Ann is a woman truly worthy of breast worship. Quite frankly, I wouldn't care if she just stood there stationary as a statue – tits out, of course, and wearing only that perpetual wry smile of hers – as long as she allowed me to kneel before her and admire those ample assets.
And so, join me now at the Church of Divine Breasts and behold the sublime wonder that is 38J Ann Vanderbilt releasing her miraculous mammaries unto us from the big tits temple of her pink J-cup bra and bestowing the blessing of her breasts upon the faithful at DivineBreasts.com: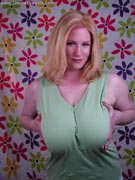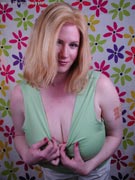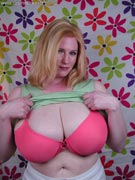 (note: actual photos downloadable from the site are 1024×768 resolution)
CLICK HERE TO VISIT 38J ANN VANDERBILT AT DIVINEBREASTS.COM

(webmasters)
Share and Enjoy
→ Return to MyBoobSite for More Big Tits ←