[ As much as I seriously abhor the deplorable premise of Feed Her Fuck Her in promoting the practice of force feeding plumpers & BBWs to get them even more fuckably fatter with magnificently massive tits and an irresistibly big cuddly plump belly (and judging by the comments and e-mails I've received so far, many of you agree), please bear in mind that most porn is based upon fantasy role playing wherein well-endowed women assume identities to fulfill the perverse dreams we're loathe to pursue in reality. Further, blogging this site was "udderly" unavoidable considering the presence of such beautiful busty superstars Sapphire & Maria Moore in the massive mammary mix of food fetish fat feeders therein, not to mention the presence of deliciously tall stack of tasty pancakes slathered in sweet maple syrup with a glorious garnish of huge tits on the side. And so I implore a suspension of disbelief whilst we indulge in the few fun feeding fantasies to follow… :~) ]
In an article entitled "Female Obesity Promotes Early Death and Great Tits" (a spoof collaboration between Playboy and Mortality Magazine), researchers weighed out the pros & cons of weight gain in women citing that, while it does pose such issues as high blood pressure and diabetes, one cannot deny that overweight women generally have beautiful big tits. In fact, apart from the equally extreme breast enlargement techniques of pregnancy and boob jobs (the former of which is short-lived at best, my wife having grown from a negligible B-cup to an exciting E-cup whilst pregnant but then shrinking back to her humble B afterwards), getting fat is undeniably one sure-fire way of growing bigger breasts on the chest!
Although I don't deny being a bit of a chubby chaser by nature, always having been decidedly more attracted to fat girls (although pleasingly plump might be a better description as I've never really been into the SSBBW thang (except in one instance – no, make that two – three, actually, counting Xtasy whom, imho, is THE most beautiful BBW in the world))…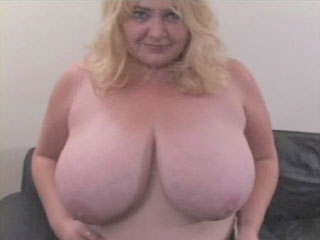 …based simply upon the voluptuous virtue of them having the biggest tits ('though I must admit having developed a big belly fetish as of late as well with the prospect of sinking my cock into their flabby folds and fucking fat flesh in an interface of plumper loving penis with adipose tissue holding an almost obsessive erotic allure). Truth be told, my usual sexual preference in partners generally gravitates toward those girls that one might moreso describe as chunky women well endowed with large natural breasts and a healthy attitude towards sex (although "promiscuous sluts" might be a more accurate depiction of the latter moral quality).
Ah, but how to achieve the former fat admirers' fantasy girl? Well, a healthy diet of doughnuts, pancakes, waffles, cookies & ice cream sundaes – the five major food groups in a fat fetish feeding frenzy – are certainly a good place to start. Well, credit the good folks at Score for recognising the need for providing a provocative primer on pursuit of the feeder fetish if the form of their all new Feed Her Fuck Her website! It features busty feeders like Maria Moore & Sapphire (both of whom recently appeared in all their busty plumper pulchritude on Sam's wedding videos), April McKenzie, Cassie Blanca, Glory Foxx, Sunshine, Alyssa Andrews & Kandi Kobain (the latter pair of plumpers with their ball sucking dick in a doughnut blowjob being especially enticing) feeding and fucking away in masterful massive mammary multitasking movies & pictures from FeedHerFuckHer.com:
Busty Plumper Fat Feeder Fetish Photos from FuckHerFeedHer
Busty Plumper Fat Feeder Fetish Videos from FuckHerFeedHer
CLICK HERE FOR MORE BIG BUSTY FEEDERS FROM FEEDHERFUCKHER.COM

(webmasters)
Share and Enjoy
→ Return to MyBoobSite for More Big Tits ←