Remember the old song that starts out, "Big tits on doughnuts and whiskers on kittens," etc? What?? That's not how it goes?! Bugger!! Nonetheless, I can safely say that the first two – big tits & doughnuts – are indeed amongst my favourite things (whereas I think whiskers on kittens are vastly overrated if not a bit shite since they just seem to stick out all willy nilly from their furry little faces and are nigh on impossible to straighten despite one's best efforts with a hot curling iron (erm, just kidding about the curling iron, btw)).
Now, while everyone here can no doubt appreciate the depths of obsession devoted to my big breast fetish, my having a similar degree of dedication to doughnuts might fall under some suspicion. In order to quell any concerns over the murky dark depths of my perversity, I'm pleased to report that this particular food fetish and erstwhile relationship with these tantalising toroids of tastiness – invitingly voluptuous & erotically curvaceous comestibles though they are (not to mention that conspicuously convenient hole in the middle (and, in the interest of true sexual equality, I should probably mention the availability of curly French crullers & cream filled eclairs for the ladies as well)) – is entirely Platonic in nature, lest ye count copious oral consumption as a curiously cunnilingual form of sex.
In truth, my long-standing lingual lust for doughnuts began way back in my school days when I was but a wee laddie. Each and every weekday morning before school, my mother would drive me to Dunkin Donuts for breakfast where I feasted upon two dozen jelly filled Dunkin Munchkins (looking back, it's a wonder I'm not fat!) and a couple cups of coffee.
And that's it, really, nothing very Freudian there in the least. However, ever since that time, my love of doughnuts has stood firm right alongside my love for big breasts and, likewise since that time, I've striven to combine these two fetishes in some manner. My first breakthrough in this regard came courtesy of lovely busty porn star Tracey Adams when she appeared with a doughnut and coffee in the '80s porn film "Swingers Ink". I cannot count the vidcaps I'd made from those few fleeting frames (and she was fully clothed, even!), but their erotic imagery did serve to sustain me until the antiquated computer upon which they were stored sadly crashed in the late-'80s. :~(
Well – happy the day! – my enduring lust for big tits & doughnuts has at long last found a new object of obsession in the form of a ravenous, ravishing British busty blonde teen – 30H Brook Little – who has successfully combined her copious cleavage with conspicuous consumption of Krispy Kremes in a fantastic food fetish feeding photo & video series for her BrookLittle website…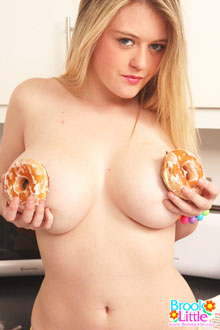 …ah, was there ever a more glorious sight than seeing such a gorgeous girl slim & stacked with big tits topless and tasty treat of two dozen doughnuts to hand?! That's my idea of heaven, that is!! And H-cup heaven, to be specific, as Brook's tiny frame belies her 30H bra size since skinny chicks like her all to often tend to underestimate their larger cup sizes considering the contrast of their big breast to body ratio!
Of course, many of you will recall lovely Brook Little from this post I made on the first of the month – you know, the one wherein I was apprehensive (and needlessly so, judging by your subsequent comments) that little Brook might be perceived as having tits too small for MyBoobSite – but, having learned that she's a genuine H-cup as per our widely-accepted bra-sizing standards combined with your collective comments of praise, my unfounded fear of featuring her here has been well and truly put to bed. Of course, I'm certain there will still be a small handful of tits out there who dispute Brook's magnificent breast measurements (as sadly oft happens herein), but I say we blissfully ignore their misanthropic ignorance of boobology and instead just enjoy this beautiful big tits teen temptress for the generous endowments of breast flesh with which she graces us upon this fine day.
And for the doughnuts, to be sure, although watching Brook work her way through fingering her box of bountiful baked goods – allowing each one to touch her tits in turn (heh, as if that wouldn't make us want them all the more!) before opening her seductive mouth for a teasing little lick from the tip of her tongue before oral insertion of their soft, sweet succulence – gives me the strong impression there won't be any left for anyone else (reminds me of someone I know, 'though I dare say you won't find food touching my tits any time soon)! And so, in an orgy of oral gratification – doughnut style – here's beautiful busty teen Brook Little devouring doughnuts at BrookLittle.com…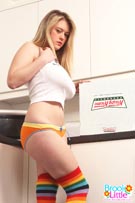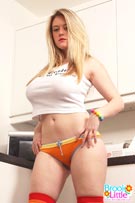 (note: actual photos available for download from the site are 1200×800 resolution)
…and, as for the delectable dessert-based big tits porn videos that bring this succulent series to completion, I have, of course, chosen a couple of video clips featuring – what else? – lovely Brook Little indulging in doughnuts! To see this gorgeous young girl feeding upon their frosted goodness is a sensual sight to behold and not only had the fevered flush of erototoxins rushing through my sex addled brain but also made me a bit hungry as well!
In addition, this sexy series also served to lend an entirely new meaning to the phrase "bumping doughnuts"; a euphemism for a popular lesbian sex act (not to say our busty Brook is averse to a little lesbian girl-on-girl action in the least)! But enough waffling about (see? I told you I was hungry! mmmm, waffles), let's get on to seeing the stunning 30H Brook Little in magnificent mammary motion chowing down on doughnuts courtesy of these sublimely sexy female mastication videos from BrookLittle.com: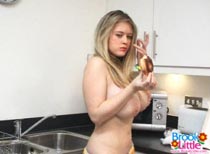 (note: actual videos available for download from the site are 640×480 resolution)
CLICK HERE TO VISIT 30H BROOK LITTLE AT BROOKLITTLE.COM

(webmasters)
Share and Enjoy
→ Return to MyBoobSite for More Big Tits ←