It seems a welcome trend that big-breasted women of more voluptuous proportions are beginning to appear on what I consider to be "mainstream" porn sites. So often, it's either "tits on a stick" skinny chicks or plumpers, and ne'er the twain shall meet. Thus, it's nice to see a site like TittyLand.com come along, juxtaposing more amply-endowed women like 34FF Ms. Panther & 36GG Seana Rae alongside what's considered as "conventional" model material like 34DD Nadia Hilton.
Having been granted a golden ticket to the tits-centric theme-park that is Titty Land, I decided to go take a look. In addition to encountering a fine variety of busty women to satisfy my every wanking whim, I also found it rather refreshing that they featured sensibly-long 640×480 videos, with a majority of the movies ranging from 30 minutes to an hour in length (since nothing kills the mood more than having to paste together and then loop a curt collection of micro-clips).
So I immediately set about downloading a few of my favourites, the first to grab my attention being the big black tits of the stunning 34FF Ms. Panther on the prowl. Ah, there she was, jiggling her breasts and shaking her booty as the camera zooms in for a close-up. Mmmm. Then, without warning, they mooz out and there's suddenly this bloke stroking Ms. Panther's pussy! Wherever did he come from?! Oh well, I suppose it's all a matter of being in the right place at the right time.
What follows is a 35 minute interracial fuck fest undertaken in every possible position. I was most impressed when Ms. Panther pounced upon her partner and he fucked her standing up! Felines being the compulsively clean creatures that they are, I suppose we can forgive her for heading to the bathroom for an FF-cup clean-up after he'd cum on her tits. Anyway, here are a few select scenes that I cobbled together to provide a preview of Ms. Panther's video at TittyLand.com…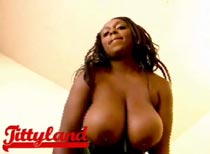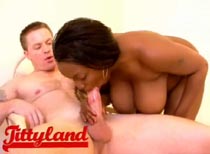 (note: actual videos downloadable form the site are 640×480 resolution)
CLICK HERE TO VISIT MS. PANTHER AT TITTYLAND.COM
…my next must-see video at TittyLand was of 36GG Seana Rae, whom many of you may have seen previously on MyBBWSite. While her glorious GG-cup endowments may not be the biggest tits I've encountered, I believe that the phrase "reasonably large, yet perfectly formed" would apply here (especially when encased in a cleavage compressing tube-top). Honestly, I feel she has the most beautiful breasts that this boob lover has ever laid eyes upon (not that the thought of laying other anatomical features upon them hasn't crossed my mind from time to time). Mouth-watering mounds of tit-flesh topped with impeccably pert nipples framed in slightly-ovoid areolae, I could gush on and on over those magnificent mammary glands (in more ways that one).
But I digress. The reason I've not blogged Seana Rae before on MyBoobSite is that she'd always been exclusive to the plumper niche, and thus far more appropriate to my BBW blog. However, now that she's touting her two tremendous talents at TittyLand, a veritable variety-pack of well-endowed women, I've finally got an excuse to bring her here! As usual, being the avid swinger that she is, we find Seana Rae fucking in this video (including a most excellent GG-cup titfuck scene). I'd tell you about the rest of it, if only I could tear my eyes away from her bouncing boobs. But, since a picture's worth 1,000 words and this video runs at 25 frames per second, you should get 1.5 megawords per minute in these preview clips from TittyLand.com…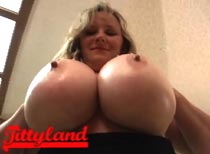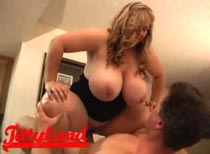 (note: actual videos downloadable form the site are 640×480 resolution)
CLICK HERE TO VISIT SEANA RAE AT TITTYLAND.COM
…but there are plenty of others girls & boobs of all shapes & sizes to be had at TittyLand. Why, there was even this somewhat under-endowed British chick that I nonetheless found terribly horny & sexy! Eh, perhaps I'm losing it. And, if that's the case, I guess they won't pay any mind if I suggest they get a theme tune to go with their theme park-like name. "Big tits for me, big tits for you, I'll have some tits, you have some too." Of course, then they'd need an ride featuring animatronic boobs from around the world to sing it over and over again. Or maybe they could serve ice cream, made from real breast milk, and served in a D-cup (or, if you're really hungry, go for the jumbo J-cup size!). But back to reality, and to round out your perspective, here's a small taste from the wide range of dairy delights you'll find at Tittyland.com: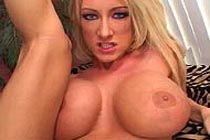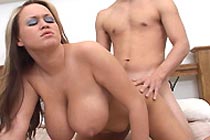 CLICK HERE TO VISIT TITTYLAND.COM
(webmasters)
Share and Enjoy
→ Return to MyBoobSite for More Big Tits ←