"The harder I work, the behinder I get" (sic) is a phrase that I could quite aptly apply to myself at the moment. I've got so much on my plate with regard to this wonderful big boobs biz, I hardly know where to begin. Don't get me wrong – I really love what I'm doing – it's just a bit overwhelming at the moment. Thus, forgive me for being brief today, but I did nonetheless want to drop by for a bit in order to serve up a small buffet of big breasts to help hold you over whilst I endeavour to catch up.
Today's tits were chosen on the basis of how they look in plunge-neckline tops and the immense power that showing a little cleavage has to draw one's focus. Granted, there are some women who go to extremes in this regard, but I wanted to be a bit more conservative in my examples since this remarkable effect can be achieved by something so simple and subtle as leaving a few top buttons undone on one's shirt.
Unfortunately, in my rush to find appropriate photos of this phenomenon, it seems that 38J Ann Vanderbilt didn't have time to get her shirt buttoned up in the first place! Oh well, I guess we'll just have to endure her topless instead in these photos from DivineBreasts.com…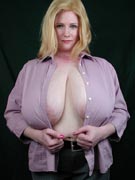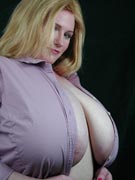 …Nicole Sands, on the other hand, did have time to get fully dressed in a long-sleeved white top which is ideal for highlighting the delightfully drawn cleft of her cleavage caused by the sheer weight of her enormous breasts (a most alluring physical feature which she kindly points out to us in the 2nd photo, just in case we hadn't noticed)…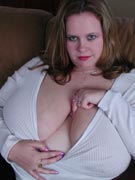 …and, finally, what Divine Breasts blog would be complete without Alicia Loren? She's chosen a tight beige top with the requisite plunge neckline that truly shows off her exquisitely beautiful, braless JJ-cup breasts to perfection, not to mention the fact that we get to see her succulent, semi-erect nipples poking out through the top's taut material!
Right, then, I've got to get back to work here! Hopefully, though, this little post will help tide you over until I get back on the blog. And so, concluding our little excursion into big tits in tight tops, here's the always amazing 36JJ Alicia Loren courtesy of DivineBreasts.com: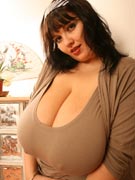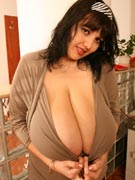 CLICK HERE TO VISIT DIVINEBREASTS.COM

(webmasters)
Share and Enjoy
→ Return to MyBoobSite for More Big Tits ←