One of the joys of this job is watching some of our younger models mature as the years go by. The subtle changes in their bodies can be a joy to behold, and such certainly seems to be the case with our own lovely little Micky. Having recently departed her busty teens – and thus losing a crucial key search term from her topless modelling CV – by virtue of turning 20, her heavenly slim-n-stacked body is beginning its glorious transformation from an ample adolescent into a well-endowed woman. In Micky's case, however, the changes are not so subtle…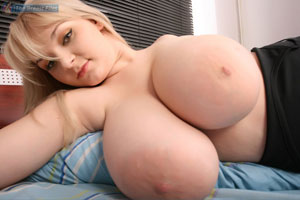 …yes, I'm talking about her huge breasts (which seem to be getting bigger every time she sends over a new photo shoot)! Sure, I've seen this before in more voluptuous models like Maria Moore, but to see such extreme breast expansion happening on such a lithesome, slender girl is one of those marvellous wonders of nature of which I'll never tire.
It hasn't all happened so suddenly, though, as I have noticed Micky's tits growing gradually over time, just not by such dramatic proportions. For example, back when I was plugging her personal site, I was struck with the distinct impression Micky was already developing slightly bigger boobs than in her earlier Divine Breasts work. But when her photographer sent me over a few proofs from her most recent photo sessions with Micky, the evidence seemed undeniable – Micky had reached that all-important busty benchmark for a big breast model wherein your boobs are bigger than your head!
There's obviously some mysterious mammary magic afoot here (or perhaps it's just all the the bananas making her breasts grow). Whatever the case, when I saw that Micky had posted two new photo sets featuring these bigger tits pics late last night, I simply couldn't resist downloading a few samples to share with you today. Thus, here's seemingly greater than a G-cup Micky from her very own BreastFiles Playmate Site…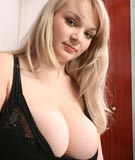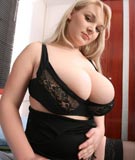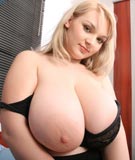 (note: actual photos on the site are 1024×683 resolution)
CLICK HERE TO VISIT MICKY AT THEBREASTFILES

(webmasters)
…of course, if you're at all curious what's behind this unexpected expansion of Micky's already magnificent massive mammaries (barring my bananas idea), don't forget that you can ask her yourself by visiting Micky live on webcam as Horny Sexy Tits 69 at ImLive.com:
CLICK HERE TO CHAT LIVE WITH MICKY AT IMLIVE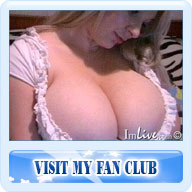 Share and Enjoy
→ Return to MyBoobSite for More Big Tits ←