Sincerest thanks on behalf of MyBoobSite's ever-dutiful (and ever-naked) webmistress Vix for the many kind birthday wishes she'd received earlier this week. There was one likewise Aquarian amongst you, however, who seized this as an opportunity to "blow his own horn", so to speak…
MaGnUs wrote:

Happy birthday Vix, you're an Aquarius like I am (my bday is on saturday). Reese, I'd appreciate some Faith or some random redhead for my birthday. :>
…and so, to something overtly cheeky as that, all I can say is "Happy Birthday MaGnUs"! As we didn't have your snail-mail address to which to send flowers and a nice card, I do hope that the following will suffice…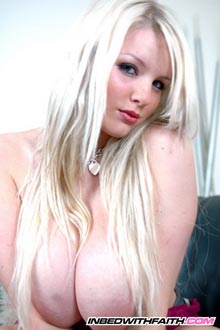 …actually, this is a somewhat unique shoot as far as InBedWithFaith is concerned as, rather than busty blonde Faith using her usual photographer, the pics were taken by another model who also appears on a website of her own: 18-year-old self-proclaimed total slut Chloe Dove!
I did notice that these photos were slightly different than Faith's usual fare – perhaps due to the fact that we're getting to see a woman's perspective on her beautiful slim-n-stacked body and gorgeous G-cup breasts (and I found myself even further endeared to Chloe's photographic skills based upon her inclusion of a few sly pussy pics in the mix!).
Thus, here are few more shots of 32G Faith Nelson as seen through the eyes (and lens) of Chloe Dove, courtesy of InBedWithFaith.com: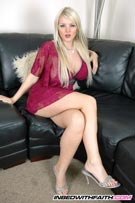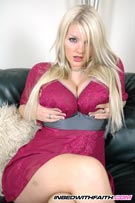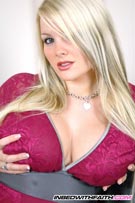 CLICK HERE TO VISIT 32G FAITH AT INBEDWITHFAITH.COM

(webmasters)
.
.
.
P.S. to MaGnUs: Not being one to skimp on the birthday prezzies, I noticed you'd also requested "some random redhead" amongst your gift list. Trouble is, many of the rare redheads I used to blog – like Maggie & Zina – have since gone permanently blonde! Thus, I decided to look closer to home and found the very first photo ever sent to me by our own TopHeavy Tiffs: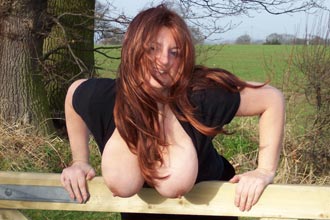 CLICK HERE TO VISIT 34G TOPHEAVY TIFFS AT THEBREASTFILES

(webmasters)
Share and Enjoy
→ Return to MyBoobSite for More Big Tits ←