It's been 100 years since the word "brassiere" first appeared in Vogue magazine, 93 since the first bra patent was granted to American socialite Mary Phelps Jacob (her original design fashioned from two silk hankies and some ribbon) and 72 since Warner's created the cup-size system, but recent statistics assembled by the British Medical Association has revealed that a majority of women are still wearing bras that are too small. In one study they found that 100% of the women participating we wearing the wrong bra size! By far, the most disturbing revelation was in the underlying aim of their research: As stated by one breast specialist doctor, "Many women requesting breast reduction surgery are wearing bra sizes several times too small." He then went on to recommend that "the services of bra fitters should be available on the NHS [Britain's National Health Service] as the first step in the referral for breast-reduction surgery".
Now, I know that many of you feel that a lot of the big boob models have a tendency to overestimate their cup size but, apart from a few disreputable sites, I've found the measurements to be largely accurate. It wasn't until my first bra shopping outing with my wife, Vix, several years ago that I realised just how small a D-cup actually was! Looking through a catalogue of models to see the visual impact of different bra styles, I guessed that one model was a mere B-cup when it turned out that she was a full 38D (thus, it's not just women who underestimate bra sizes!)! And, as for the wife, I'd always thought of her as a double-D at most until the bra fitting specialist at one highly respected shop measured her up properly as a 36F!! Fortunately, Vix is quite proud of her breasts and the attention they attract, so finding out that her true bra size was substantially larger than previously believed was a non-issue.
No so for the majority of women, though. One female friend of ours had a bit of a crisis over this a while back when she learned, after wearing a 34DD bra for most of her life, that her correct bra size was actually a 32G. Honestly, she was devastated by this news, never having even known that something bigger than a DD-cup had existed, and immediately began researching reductions (which, apparently, our doctors here in the UK will consider for anyone who's an E-cup upwards). :~( Although we did our best to console her and cast a positive light on her truly lovely big boobs and how they complemented her figure as well as decry the evils of something as invasive and potentially disfiguring as breast reduction surgery, it did no good whatsoever and I was left to sadly wonder how a few measly letters of the alphabet could have such a major impact upon a woman's attitude towards her breasts.
What brought this whole topic to mind for me was Maria Moore's latest photo shoot for Divine Breasts in which she wears a bra which is obviously too small for her. Granted, she's probably just doing it for effect to accentuate the sheer size of her massive JJ-cup mammaries – which is fine, as it's good to see a well-endowed woman who's happy with the big breasts with which she's been blessed – but it does look a wee bit uncomfortable nonetheless. Sure, wearing a smaller bra can enhance the cleavage dramatically, but it also results in that curious quadra-boob syndrome wherein one's big tits tend to spill out the top of the bra. Eh, I suppose it's a turn-on to those with a bra fetish, but I prefer to see beautiful breasts like Maria's naked. And so, in an effort to please all of the people all of the time, here's a bit of both with 38JJ Maria Moore in and then out of her undersized bra at DivineBreasts.com…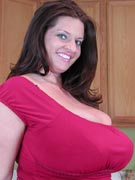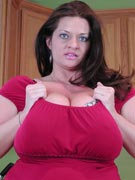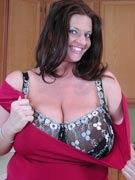 (note: actual photos downloadable from the site are 1024×768 resolution)
…I also wanted to take this opportunity to introduce a new model who's recently joined the DivineBreasts harem: I-cup Alanah! I used to think that I-cups were an extreme rarity, that is until I'd discovered the measurements of one of my favourite Score girls, Autumn-Jade. Since then, I've had the good fortune of finding other I-cuppers to grace these pages, including Victoria from RubMyBoob and DB's own anonymous I-cup guest. Call it an obsession with odd bra sizes, but when I saw that newcomer Alana shared this unique cup-size as well, I felt obligated to add her to today's blog. So here she is in her very first appearance at DivineBreasts.com: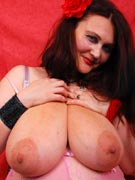 CLICK HERE TO VISIT MARIA MOORE & I-CUP ALANA AT DIVINEBREASTS.COM

(webmasters)
Share and Enjoy
→ Return to MyBoobSite for More Big Tits ←