You'd think the fact that British girls have been statistically shown to have the biggest tits in Europe would be a good thing, right? Well, as much a I am one to take pride in my country of residence for growing in bust-size from a mere 34B ten years ago to somewhere between a 36C and 34E on average today, a recent e-mail from my mate Jazzman has illuminated alarming evidence that not everyone feels the same…
Hey Reese,

I sent you the pictures of the beautiful Denise Milani a while back. Now, I have bad news to send. I just saw an ad on BBC America that a documentary on british women looking to reduce their boobs is going to be on Sunday night

Tell me it isn't so that their facts listed bottom left-corner of this article are right!?!?

Reduction of boobs should be criminal. That'd be like me saying, "Hey Reese, my penis has been hanging down so much lately I keep sitting on it and the weight is giving me back pains…." Ok, so it's not the same. But you get the joke. A blog about this unfortunate topic could be in order to please your American friends like me.

Cheers,
Jazzman
…well, sadly, Jazzman, everything in the article is true. Let's take a look at two simple facts that, when taken together, paint a most disturbing scenario: 1) The average British teenager's breasts are 36D in size and 2) our National Health Service here will consider free breast reduction surgery for anyone who is an E-cup or larger. Therefore, any teen who happens to be "above average" in the bust department could be eligible to go under the knife to get their big boobs butchered courtesy of the NHS! And, although I don't know whether or not all of the cases in our third alarming statistic have been NHS-funded, but thousands of teenage girls here in Britain – some as young as 13 – are now opting for breast reduction merely so they can "fit in".
Granted, it's not that easy. As 36J Ann Mullard found in her own breast reduction experience with our NHS, her GP first referred her to a psychologist to assess the significance of her body-image issues, then to a bra-fitter to make an accurate determination of her size (nearly 80% of women in Britain wear the wrong size bra, which can have a significant impact upon appearance and comfort) and finally to a consulting surgeon. Then, it was a matter of being put on a 5-month waiting list which gave her time to weigh up the pros & cons of losing her boobs.
Still, the fact that 4,027 women had breast reductions on the NHS in 2006/7 remains a sobering statistic. Even busty blonde Page 3 superstar Katie Price aka Jordan showed off her 32FF chest for the last time before having her boobs reduced to a meagre D-cup during this period (although it's interesting to note that Jordan's sister, Sophie Price, wants her own boobs bigger, albeit only by one cup-size). All of this makes me wonder whether the lovely 34KK Chloe Rogers actually went through with the op as she'd alluded to in the article accompanying my Biggest Boobs in Britain blog (and, if anyone out there knows Chloe, I'd love to get in touch with her to find out the status of things).
It all makes one want to join in and support Cherry Brady's somewhat militant campaign to ban breast reductions. While I can see some sense in allowing this admittedly extreme surgical option in the case of serious medical issues, to have your beautiful breasts butchered in pursuit of the physical acceptance of your peers is, well, totally unacceptable! The trouble is, young girls who are naturally well-endowed often find themselves subjected the psychological sting of taunts and bullying by those around them whilst growing up. One girl whom I'd dated in high-school – the one 36HH Sapphire had reminded me of – was cruelly branded a "slut" simply because she had big tits (and this was by an adult and not one of her classmates)! :~(
Indeed, the overall ignorance astounds me. It also leads me to believe that the underlying problem is not with the busty girls themselves, but with the society in which we live and, considering the growing breast-size here in Britain, I fear that it can only get worse. So, rather than deriding these girls or blaming the NHS for their decisions, we need to instead put an end to the societal pressures placed upon those blessed with big breasts and encourage everyone to treat huge boobs with the respect they deserve.
I don't know. Perhaps some manner of breast-acceptance movement is in order to promote public recognition of the beauty of naturally big tits and eliminate the prejudice well-endowed women sadly face every day. And, lest ye think that we – big breast-worshipping lot that we all claim to be – are exempt from such deplorable behaviour, I have to say that not a day goes by that I don't have to moderate out a handful of shameful comments within which some cruel, demeaning sentiment is expressed about the featured busty model. To those sad, thoughtless few, I can only reiterate MyBoobSite's motto that it's all about the tits.
Breast-acceptance begins at home and we, as big breast lovers, should take it as our duty to spread this idea within the wider community. Granted, everyone has their own personal preferences with regard to big tits: Some like large breasts standing out proudly in stark contrast to the slender frame of a slim-n-stacked woman. Others prefer to see big boobs balanced out by a more voluptuous figure. Big nipples, small nipples, large areolas, veiny breasts, perfectly pert or pendulous pontoons, there's indeed something for everyone. And those who harbour a particular preference should make it known to those women who strike their breast-fetish fancy to promote positive body-image reinforcement for all. Only then can we hope to put an end to breast reductions undertaken for purely cosmetic purposes.
One busty British girl whom I consider to be a major success story in this regard is 32JJ Rachel Aldana from PinUpFiles…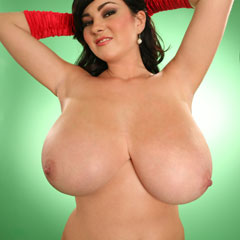 …while several of the other girls in my biggest British boobs blog were seriously considering going ahead with the horror of breast reduction surgery, Rachel came to accept her big breasts for the natural wonders that they are. I've no doubt that the feedback she received from boob lovers like ourselves played a not-insignificant role in providing encouragement (if only we could now find KK-cup Chloe Rogers in hopes of doing the same – if we're not already too late, that is).
Sometimes, it's the little things about big tits that deserve recognition. If you'll allow me to linger on Rachel Aldana's gorgeous JJ-cup breasts for a moment (mmmm, how glorious would that be IRL?), I did find something in the above photo that stood out to me moreso than even her erect nipples in terms of its intensely erotic appeal: the cusp of her cleavage. The overlapping cleft where Rachel's cleavage comes together is just absolutely amazing, giving a true measure of just how heavy her huge tits really are as the skin stretches under their immense weight of her bountiful breast-flesh (special thanks due to PinUpFiles for their ultra-high-resolution photos which allowed me to provide a near-life-size cropped image from the original). I just have to wonder if anyone who's had the unbelievably good fortune of encountering Rachel topless has complimented her on this fantastic physical phenomenon?
Anyway, apologies for the length of my impassioned rant and, as a reward for enduring said diatribe, here's a bit more of the model whom you may have noticed from my sidebar has been voted official bunny & mascot of the newly-emerged 30JJ Gentleman's Club (despite her actual band-size being two inches larger), 32JJ Rachel Aldana from PinUpFiles.com: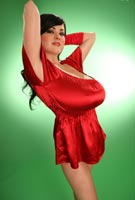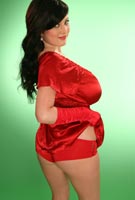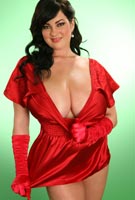 (note: actual photos downloadable from the site and 1796×2680 high-resolution)
CLICK HERE TO VISIT 32JJ RACHEL ALDANA AT PINUPFILES.COM

[Remeber: If you sign up as a member to PinUpFiles.com, you can get a membership in the other site upon which Rachel appears – PinUpGlam.com – for only $10- more! Check out the joint membership option on their join page for further information on registering for this 25% multi-site discount.]
Share and Enjoy
→ Return to MyBoobSite for More Big Tits ←