Well, the results of my little porn poll have been interesting so far. With just under 1,500 votes tallied in the past two days, it seems that 57% of you are completely contented with softcore whilst only 43% prefer hardcore porn (and, since the poll was focused upon softcore, I didn't break down the hardcore options further). Curious to me was the fact that it appears a toss-up whether or not a girl's pussy appears in the pics. It's currently 12% that are happy with a girl fully nude sans visible genitals whilst 12% prefer pussy on display as well.
Today I thought I'd cater to the hardcore minority with a selection of Japanese porn videos from Busty-Asians. Although I've blogged Busty-Asians before (having originally found the site in my search for Fuko), I've only featured photos in those blogs. The other day, however, I received the announcement that they'd just released a collection of video galleries for the site featuring models like Mariko Morikawa, Marina Matsushima, Anna Ohura & Shoko Goto (the latter two of which had been recommended by MyBoobSite readers), so I decided to have a look.
While the softcore content was fine & dandy, Busty Asians' hardcore videos left me a bit kerfuddled. You see, all of the scenes within which a point of penetration was evident – be it oral penetration from a blowjob or vaginal penetration from a fuck or even just cleavage penetration from a titfuck – that portion of the frame had been pixellated to obscure the anatomical detail! I'm not a member of the Busty-Asians site (because, frankly, if I were a member of all of the sites I blog here, I'd be flat broke!), but it makes me wonder if the full videos you can download from the site are summarily censored as well! Thus, if any of you are members of Busty-Asians, please post a comment here and let me know for future reference. If it's truly the case that hardcore Asian porn has to be censored in this manner, I'd love to embark on a little research into Japanese law with regard to the portrayal of nude and sexual imagery in adult media.
Here in the UK, despite our penchant for putting topless models in our daily newspapers, it's only recently that hardcore sex could be portrayed in a magazine (the first being one called British Sex which debuted at the 1998 Erotica exhibition). Prior to that, any pornography which even featured an erection had to be censored! I remember hearing a story of one bloke who'd bought an "under the counter" adult magazine here back in the '80s, only to find that all of the photos which depicted hardcore content literally had all of the genitals cut out from the pages (making me think that either this was foreign porn or simply predated UK arrival of the technological advancements required to render a pixellated penis)!
Whatever the case may be, I suppose that porn is porn and seeing the point of penetration pixellated is better than seeing nothing at all. After all, we're about big breasts here, so if we have to endure some measure censorship to see huge Japanese tits bouncing if the throes of sexual ecstasy, then so be it. With that in mind, here are a few softcore to hardcore video galleries from Busty-Asians (courtesy of the good folks at LusoPorno):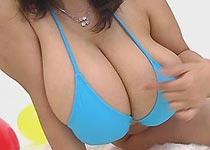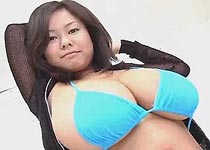 CLICK HERE TO VISIT BUSTY-ASIANS

(18 U.S.C. 2257 Statement)
Share and Enjoy
→ Return to MyBoobSite for More Big Tits ←