Not to slag off this fine country within which I make my home but, being a transplanted American now living in Britain for the past ten years, the phrase "British comfort" is not one that trips lightly off my big tits twaddle typing fingers. In stark contrast to my former life in the 'States, it seems to my old American sensibilities that Britons thrive upon a culture of discomfort. One need only visit one of Britain's inconvenience stores and sample some of the bland yet deeply unsatisfying snack foods that pass for between meal treats to get a taste of what I'm talking about. Sure, I'm slowly but surely that "stiff upper lip" in the tried and true English tradition, but I believe that's purely a physiological response to the cold, dank conditions we're forced to endure day in and day out. Oh, and as for the plethora of social activities available to break the sheer boredom of British life, there's the pub and… erm… that is all. Ah, but didn't Pink Floyd say that "hanging on in quiet desperation is the English way?" Hmm, perhaps I should accept their sage advice as attitude adjustment to the British mindset. After all, "mustn't grumble," and all that.
Besides, I can always take consolation in the fact that busty British girls have the best big breasts I've ever had the pleasure to encounter first hand! Thus, in appreciation of the simple but very considerable cleavage comfort and joy big juggs can bring, here are lovely large bust British beauties Amber Hall, Denise Davies, Carol Brown and Michelle Monaghan from BustyBritain.com…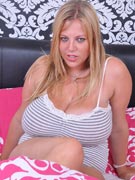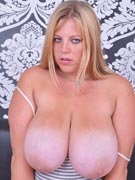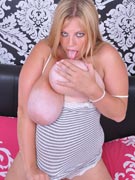 …and, indeed, what better way to beat off those British blues of being bored than masturbating (which appears to be a hot topic for me at the moment)? I enjoy a good wank as much as the next guy (or gal, to be fair), but watching well-endowed women wanking is something I never got to see in real life up close and personal until I'd moved here. And so, in further celebration of the best in British culture, female masturbation videos from BustyBritain.com: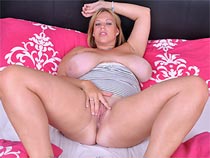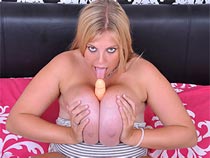 CLICK HERE TO VISIT BUSTYBRITAIN.COM

(webmasters)
P.S. And, yes, I'm ever so slightly taking the piss, save for the snack food bit.
:~P
Share and Enjoy
→ Return to MyBoobSite for More Big Tits ←