So, I pop in briefly on Sunday to let all you lovely large breast lovers know I saw Sexy Venera & Leanne Crow together at some Euro-lesbian site (oh, and btw, I've just added the Leanne Crow / Venera videos to that one as well)…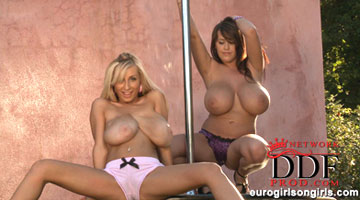 …then, looking though my boob blog e-mails this fine mammary morning, the first thing I come across is busty Terri Jane & Michelle Monaghan going tit to tit over at the Brooke Lee Playmates site (which, granted, we've seen here before, albeit in video form)…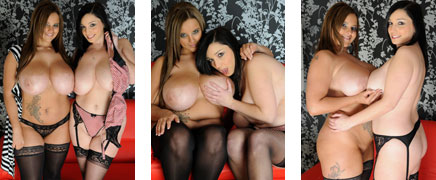 …the next seemed to be a semi-erotic advert with photo attachments from the Jordan Carver site promoting some sort of epic big tits strip poker battle of boobs between Jordan Carver & Sexy Venera therein…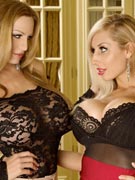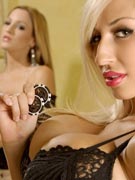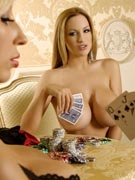 …followed by another announcing a "Magnificent Meeting" of the massive mammaries between Micky Bells & Natalie Fiore on video at XLgirls.com…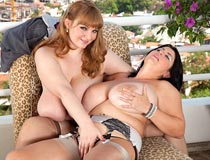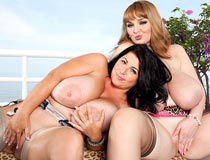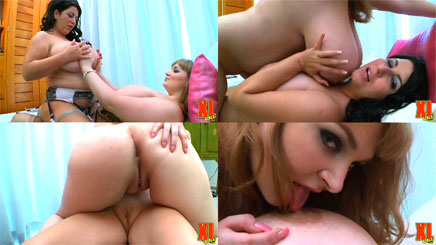 …and, if that wasn't enough, even the Scoreland supplement seemed, apart from one lone Leanne Crowe gallery update, to focus on the busty lesbian all female Sapphic splendor of big boobs girl-on-girl action with Lana Ivans & Valory Irene in one and Sarah Satori & Eva Notty in another!..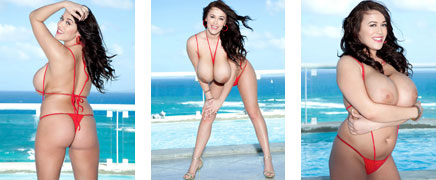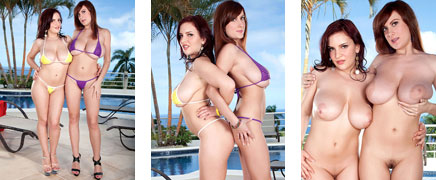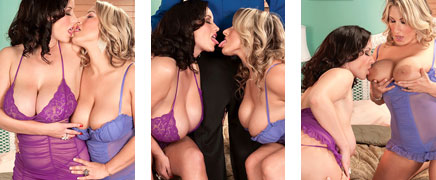 …is it just me, or does everyone seem to be going girl-on-girl of late? Now, I'm not all that into lesbian porn as a rule, as there's only so much two girls can do together. A lot of it seems overly tame as well, and it soon becomes way too much breast massaging and tit sucking for this boob lover to bear (although, judging by the sheer popularity of "two girls kissing" in terms of search term stats, I may be alone in my breast fetish feeling about this).
Meh, at least in that last one the girls get a little cock to play with half-way through (despite their seeming to stay more interested in each other than the dick-wielding dude brought in as a threesome sex stand-in). But, even then, regardless of the fact fucking two girls at once appears to be a major male fantasy for some reason, it's still not quite enough to fully satisfy my perverse sexual appetite as I tend to agree with my missus when she says that the "poles to holes ratio" is all wrong in the FFM format.
Ah, but that was before I got to the preview video from this series and saw Eva Notty strap on a strap-on to pussy fuck Sarah Satori whilst she herself took a penis pounding from behind doggy-style. And, since I'd never seen two girls make an FFM threesome sex sandwich in such strap-on sex / real cock conga-fuck fashion before, I thought, "Finally, some sexy girl-on-girl porn I can really sink my teeth into!" Hmm, wonder if anyone's done a full coital version of the cunnilingus caterpillar?
So, whilst I turn on to the idea there may be more porn possibilities from the lesbian sex perspective than I'd previously "cum" to imagine, let's watch that preview of the Sarah Satori / Eva Notty threesome video from Scoreland.com: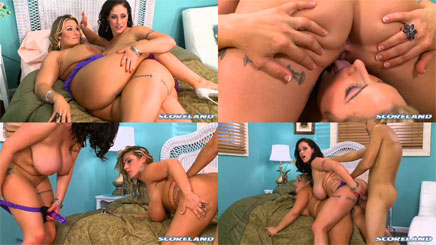 Share and Enjoy
→ Return to MyBoobSite for More Big Tits ←