Not since Fuko have I been inundated with so many e-mails regarding a particular model. For the past four days, countless numbers amongst you (okay, just 23) have been hounding me (well, politely requesting, actually) to look into a busty mature MILF called Claudia-Marie. Since there are too many of you to mention here, I'll just share the first message I got on the topic…
BoobBob wrote:

Hi Reese,
I've been checking your blog for sometime now and wanted to see if you've seen Claudia-Marie.com? I just discovered her on My Friend's Hot Mom and did a search and found her own site. She may not qualify for F cup or larger, but still a nice rack and she likes to screw, which I found lacking in some of the polish sites.
Just thought you'd like to check it out. And thanks for such an informative and titilating blog.
Another dirty old man from California,
BoobBob
…well, BoobBob, in answer to your question: No, I hadn't heard of her until readers' e-mails started rolling in. Having checked out the link you sent and judging by her apparent age, overall figure and having seen her boobs in motion, I believe that Claudia-Marie most certainly fits in with our F-cup criteria.
Besides, it's nice to see older women getting their tits out, too, and I probably don't feature them as much as I should here on MyBoobSite (with Mercy, Chessie Moore & Cherry Brady being the obvious exceptions). Why should one's age limit their participation in porn? Are we supposed to suddenly lose the will to fuck at some point in our lives?! [That's a rhetorical question, mind.]
Now, I realise that Claudia-Marie might not be everyone's cup of tea and that many of you would rather see some sweet young thing with big tits featured here instead. However, as I grow older (I'll be 43 this Summer), I get to wondering how my sex life will be as I continue to advance in years. Thus, seeing Claudia-Marie remaining horny as fuck is a bit of an affirmation for me.
Sure, she's got the tell-tale tummy and slightly sagging breasts that "women of a certain age" tend to develop, but those among us who can appreciate the more mature woman will agree that Claudia-Marie has maintained a most excellent shape for her age (and, if you've ever been offered the pleasure of a "flabby belly wank", you're well aware of the expanded erotic possibilities that come courtesy of the natural body changes which occur as we get older (either that, of I'm just a dirty old man engaged in the perpetual perverse pursuit of finding new ways to make the most, sexually speaking, of what any body has to offer (that said, I must give credit where credit is due, as it was my wife, Vix, who'd originally come up with the belly-fuck idea))). ;~)
But back to Claudia-Marie, whom I'm pleased to present here by popular demand, in these photos from her Claudia-Marie.com website…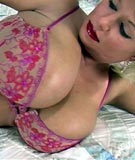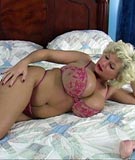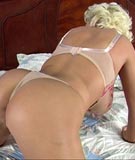 …while the solo photos are pleasant, the one thing that I find most attractive about Claudia-Marie is that she loves to fuck – a quality best showcased in full-motion video form. I've chosen the videos for today's blog with the intention of setting aside BoobBob's assertion that Claudia might be less than an F-cup, as it was seeing her big floppy tits in action that convinced me otherwise. It's especially evident in one of the clips in the second video gallery below when Claudia's fuck-buddy grabs both breasts and tugs them toward himself, pulling those huge hangers nearly down to her navel! But don't take my word for it; witness Claudia-Marie's cup-size qualifications for yourself in these videos from Claudia-Marie.com: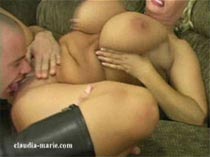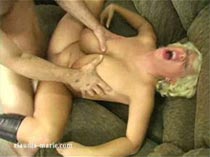 CLICK HERE TO VISIT CLAUDIA-MARIE AT CLAUDIA-MARIE.COM

(webmasters)
Share and Enjoy
→ Return to MyBoobSite for More Big Tits ←