I awakened this morning (well, this afternoon, if you want to be technical) to a shocking e-mail from MyBoobSite reader Tim re: Score's Busty Merilyn site with this compelling pair of breast sex pics attached…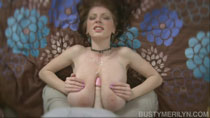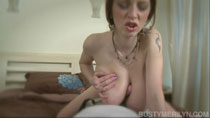 (vidcaps courtesy of BustyMerilyn.com)
…accompanied by the following text…
Tim wrote:

"Don't get me wrong, I think Busty Merilyn is wonderful and absolutely adore slutty women, but don't you agree that it's only a matter of time before she moves into full-on XXX hardcore porn?" (Reese, May of 2007)

Well Reese you are a prophet, this seems to have come to pass, but I can't find any big announcements about it. Just a clip on a torrent site that shows Merilyn getting titfucked and getting a boob-glazing. Strangely I can't find the clip represented or the act mentioned on her own site tour.

As proof I am attaching the screenshots in the torrent. Maybe you can dig up more info on this to make a blog post about it.

Keep up the great work on myboobsite and the new forum!
…leaving me no choice but to log on to BustyMerilyn immediately to see what was up – and, lo and behold, in the photo gallery of her members' section I found this description of the up & coming hardcore titfucking photos & videos in question…
BustyMerilyn.com wrote:

What would you like to do to Merilyn, if you could be alone and intimate with her? On the to-do list would be getting stroked by her dainty hands, getting your cock licked by her pink, flickering tongue and, of course, sliding your throbber between her …
…it's slated for release on October 20th and I, for one, will be most eager to see what our gorgeous G-cup goddess has to offer in the titfuck department. So, like myself, you'll have to wait for more details in this breaking new from the wonderful world of big boobs.
In the meantime, whilst we wait for this Busty Merilyn titfucking sex scandal to unfold, we'll just have to be content with some solo tits, ass & pussy pics from one of her most recent shoots for the site. In a series entitled "Ass Creamed", I found it interesting that Merilyn included more shots from behind than found within her usual fare. Perhaps she thinks we're paying too much attention to those massive mammary glands when she's got a really fine ass as well (not to mention beautiful pussy flaps to die for)! And so, here's ever lovely 32G Busty Merilyn Sakova getting her magnificent huge tits and beautiful round ass creamed in these photos from BustyMerilyn.com: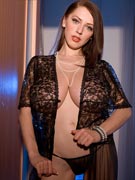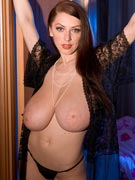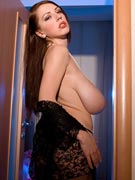 (note: actual photos available for download at the site are 1600×1067 resolution)
CLICK HERE TO VISIT 32G BUSTY MERILYN SAKOVA AT BUSTYMERILYN.COM

(webmasters)
Share and Enjoy
→ Return to MyBoobSite for More Big Tits ←