True to form, after I'd written in yesterday's blog about how much I appreciate tips on new busty models to feature herein, MyBoobSite reader Joey sent me the following…
Joey wrote:

Speaking of big tits in tops, have you guys seen the new bombshell on Top Heavy Amateurs? Her name is Cheron. Reese, please do what you have to do to get her on this blog. I think we have a mega discovery on our hands here.
…so thanks for the big tit tip, Joey (and the pics as well!)! :~) However, I've got to extend the credit to BreastFinder, THA's esteemed webmaster, for having first alerted me to the existence of exceptionally-endowed K-cup busty black beauty Cheron a little over a week ago…
BreastFinder wrote:

Hey Reese,

Just curious to see if you were interested in doing a small write up on our latest 32K CUP WONDER CHERON!!

You have to see these pics man!! WOWZERS!!

Attached some especially for you!

Enjoy and keep up the great work!
…so, I apologise most humbly for my tardiness in getting this breaking news of the big tits world out to you but, as I'd said in my Tits in Tops blog the other day, I've been running a bit behind as of late. Still, keep those huge hooters hints and colossal cleavage clues coming, as I really do hope to get around to most all of them eventually.
Cheron is just one of those amazingly well-endowed wonders of nature whose massive mounds of mocha mammary flesh are so incredibly full whilst remaining perfectly pendulous to the point that they hang all the way down into her lap when she's sitting, stopping just short of her thighs so that you can catch but a teasing glimpse of her belly-button beneath the captivating curvature of her immense chocolate cleavage. Topped with huge saucer-like areolas which seemingly swallow her nipples by comparative circumference, these big black boobs are a sight to behold and indeed worthy of inclusion within our little breast-worship temple of tits.
My only real complaint about Cheron is that she has her face blurred in her photos. Now, I'm all for respecting an individual's anonymity, should they so desire, but I personally cannot get turned on by faceless models regardless of how huge their breasts may be. It just spoils the illusion of intimacy and seriously limits their prurient fantasy potential, as far as I'm concerned. Still, I blog them nonetheless (albeit not quite as generously as those less-inhibited models who are willing to forgo privacy and reveal their identity), as I realise that, obviously, not everyone needs to see a girl's face to get off on them, their big breasts and beautiful bodies being enough.
Eh, to each their own. I suppose I should be thankful that this huge breasted babe has chosen to share her body with us, even though she does deign to keep her identity a secret. Who knows? Perhaps she's like one of those masked superheroes – a mild-mannered customer service representative by day but, by night, transforms into some sort of Super Cheron, accelerating the electron orbits in the atoms of her facial epidermis in order to obscure her features as she goes about unrecognisable, confounding criminals with her twin K-cup weapons of mass distraction! How's that for a fantasy construct?! Nope, sorry, still doesn't work for me. *sigh*
And so, for those of you who can appreciate anonymous big breast aesthetics without the benefit of being able to put a face to the fantasy, here's the quite possibly very lovely (although it's impossible to tell) 32K busty black beauty Cheron from TopHeavyAmateurs.com: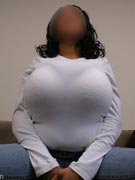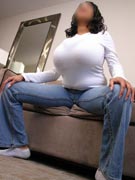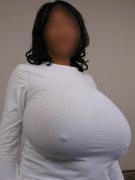 CLICK HERE TO VISIT 32K CHERON AT TOPHEAVYAMATEURS.COM

Share and Enjoy
→ Return to MyBoobSite for More Big Tits ←