You remember how in my reverse titfuck blog yesterday I was joking about a sideways titfuck wherein the erect penis is inserted into the inframammary fold beneath the breast from the side? Well, all joking aside, when I visited Busty Asians today, I found precisely that! What's more, I believe I may well have stumbled upon the biggest titfuck orgy I've ever seen in my life!! Busty Asian Chichi Asada uses her huge tits to administer no less than sixteen titfucks (!) to a multitude of men during the course of this extreme mammary masturbation video, moving methodically from one to the next in non-stop titfucking action until her colossal cleavage is covered in cum – and, while I'd never considered the erotic allure of a sloppy seconds titfuck before, this particular breast sex Asian hardcore video has me seriously contemplating the possibility.
The scene starts of with lovely little Chichi Asada topless, kneeling before a veritable army of eager men ready for action. They come up from behind, surrounding our horny heroine and proceed to group grope her heavy handfuls until she's moaning in orgasmic ecstasy. Don't you just love a girl who can cum just from breast fondling? Her erect nipples poking out from between their groping fingers provide apt evidence of her sexual arousal, and it's not long before she gets her first victim on his back, kneeling between his legs, spitting on his cock for lubrication and then squishing her big tits together to create a carnal canal for his cock in her cleavage. Now, talk about quick cummers, this is by far and away the fastest titfuck I've ever seen, with the boob bound bloke lasting a mere twenty seconds before achieving orgasm – spurting the inaugural contribution to what will ultimately be a most immense sticky pearl necklace of semen beneath her chin (and, with fucking such supple big floppy tits as those adorning the heaving chest of this sexy girl, who wouldn't?!).
From that point forward, it's titfucks all around as she makes her way from man to man, milking their cocks with her tits in turn over the length of this most amazing titfuck gangbang orgy video until her cleavage is dripping in cum from the panoply of penis providers on hand. Then, as she's on her knees and taking one cock from the side in the wondrous sideways titfuck I'd alluded to earlier, another penis equipped partner approaches her from the other side, inserting his turgid erection into Chichi's hitherto unoccupied inframmamary fold turning it into the first double titfuck I've had the pleasure to witness in all my days spent in the perverse pursuit of big tits porn! Cocks to the left of me, cocks to the right of me, and into the cum covered cleavage of doom marched the 600.
Sorry, but I'm just totally overwhelmed by this sticky siren slut – huge boobs glistening with semen as she titfucks her way around the room stopping only occasionally for a blowjob break to give those cum hungry big breasts a rest, her floppy tits jiggling across her chest as she eagerly sucks whatever cock might happen by. Some don't even bother with the blowjob, instead just jacking off on her tits as they pass! Will the massive mammary madness never stop in this erotic orgy of big breast sex Japanese style? Well, yes, it does…eventually. In the end, we find our cleavage cum slut abandoned, lying on the floor whilst massaging semen into her breasts and looking rather pleased with herself as she licks cum from her fingers. I just wish I knew Japanese so I could understand what she's saying.
Yup, sixteen titfucks in a row – counting the double inframmary sideways titfuck for two – more than enough to earn busty Asian Chichi Asada the title of Titfuck Queen as far as MyBoobSite is concerned. Seeing this gorgeous girl covered in cum after titfucking for all of Asia has proven to be such an intensely emotional experience for me I found myself sporting a spontaneous erection and crying precum from my penis! It is indeed with this video that I find myself finally warming up to Japanese porn despite the somewhat annoying pixellation of the naughty bits. In order that you too can experience the erotic ecstasy of this excellent titfuck orgy perchance to cry from your penis, I've lovingly prepared a set of preview videos encapsulating just a few of my favourite scenes from the epic group grope titfuck gangbang of Chichi Asada from the videos that came courtesy of Lusoporno's Busty Asians: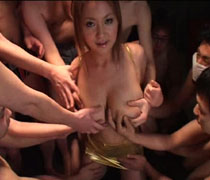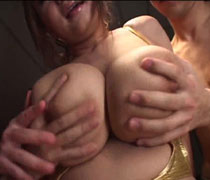 (note: actual videos available for download form the site are 720×480 resolution)
CLICK HERE TO VISIT LUSOPORNO BUSTY-ASIANS

Share and Enjoy
→ Return to MyBoobSite for More Big Tits ←