Janessa Loren, who I first posted HERE, and then HERE, is back with a trying on bras video.
She starts of with a stupidly small bra, with her 32H/34G boobs squishing out left, right and centre.
She moves on to another, but has a similar experience. Seriously girlfriend, what were you expecting?
It sounds like Janessa has had a few issues with being a hugely busty bird over her formative years and she comments that she wishes she had D-cups. That would just be a crying shame*.
The funny thing is when I was growing up, I never thought about my boobs, but as I grew up and saw movies, pictures and whatever else, I realized one day that they were pretty awesome to have. So now I really like my boobs. I love my body now. I have to thank every Latin singer who has come out in these past few years. My body type wasn't considered to be the norm back then.
Janessa's tits are magnificent. Pendulous without being saggy, firm without being hard… and she wears some spectacular nipples, too.
* Of course, she may just be playing a part for the video. We can but hope.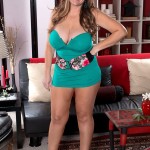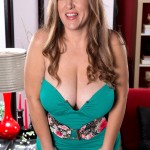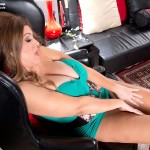 Click here to visit Janessa at Scoreland.com

Share and Enjoy
→ Return to MyBoobSite for More Big Tits ←