Just popping in for a moment to introduce you to two new busty blonde beauties who've just hit the most excellent XX-Cel site: 36G Cynthia Flowers from Hungary and 34EE Rachel Donati from the Czech Republic (I know Cel knows I prefer blondes, but however did he know it was my birthday?)!
With an utterly amazing tanned body, gorgeous G-cup breasts and a sexy tattoo just above her sweet ass, Cynthia is the epitome of the big boobs blonde beach babe – and that's before we even get to her pretty pussy with its lovely large labia lips! Isn't that last pic of her below just irresistibly vaginally inviting? Honestly, I can't decide if it's that, the stunning sidewinder shot with its profile view of her huge boobs hanging out in front of her with the sexy lower back tattoo in the foreground or the nude upskirt style pussy pic with those beautiful tanned tits hanging on the horizon!
And, speaking of perfect pussy flaps, while at an EE-cup Rachel has decidedly smaller tits in comparison to Cynthia's hefty rack of tan dairy delight, her immensely attractive genitalia with its cute little clit flanked by magnificent meat flaps formed of the most succulent cunt flesh is a super sexy sight to behold! Even better are her closeup pussy pics wherein she's spreading her vulva wide open to reveal, in intimate anatomical detail, the compelling curves inside her vagina (would love to get a moist meat massage from those fabulous feminine folds, I would!)!
And so, here are stunningly beautiful blonde busty lovelies Cynthia Flowers & Rachel Donati from XX-Cel.com:
36G Cynthia Flowers photos from XX-Cel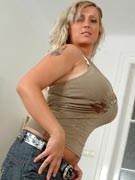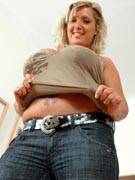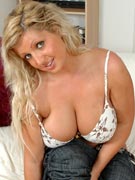 34EE Rachel Donati photos from XX-Cel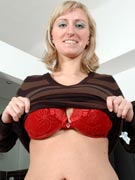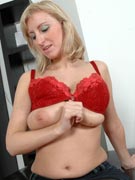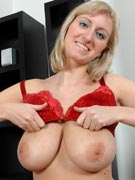 (note: actual photos available for download from the site are 1600×1064 resolution)
CLICK HERE TO VISIT 34GG AMBER HALL AT XX-CEL.COM

Share and Enjoy
→ Return to MyBoobSite for More Big Tits ←