Since the beginning of April, I've received dozens of e-mails from various visitors to MyBoobSite asking when Denise Milani would be appearing here. Trouble was, although I was aware of, as my mate johnny h. put it, the "big boobed slim and stacked phenomenon that has come out of nowhere, and is suddenly all over the net," I didn't have any photos to blog.
Jazzman came to my rescue with an almost evangelical e-mail which included a most thoughtful little "care package" of content from her site (and, if I haven't said so already, thanks Jazzman!). In his e-mail, he applauded my humble efforts as a boob-blogger – as well as my recent turn-around on the topic of Asian tits – before offering the following caveat…
"I must say we differ in opinion from time to time, which is great. I'm a big breast, petite fan like you wouldn't believe — not so much on the big girls…with obvious exceptions: Claudia-Marie (which I recently discovered separately), Samantha38G (holy hard-on, Batman!), and even lately, Maria Moore (who grew on me over time). When it comes down to it, I love the Anyas, Princessas, Cassandras, Faiths, etc."
…it was then that he got to the real mammary meat of the matter – the raison d'être of his e-mail, if you will…
"An even more important point is that I don't like some of the really big girls because I don't think a lot of the are beautiful. The face, the eyes, the smile, the dimples in their cheeks, the brightness of their teeth. That gets me. Because of that, if you are unfamiliar with her, I'd suggest a VERY LONG look at Denise Milani. Denise is a non-nude (the saddest thing ever) model who I humbly declare as the most perfect woman alive."
…so, thanks to the pics he'd so thoughtfully included as an attachment, I did. And I must agree that Denise is indeed a most stunning woman. However, I must admit I was mildly disappointed at the lack of breast-flesh being revealed. My friend Tomasz, who's not a fan of hardcore and prefers the classic softcore or fine art nudes, offered the same opinion in stronger terms, saying, "Denise Milani is the first ever adult big boob model who wants money for … not showing her boobs!"
We can always be hopeful, though. After all, "non-nude" is precisely how Maria Swan started out over at Busty.pl – offering her new-found fans at most a teasing glimpse of cleavage or glorious G-cup "big boobs from behind" shot when topless (not unlike the last photo of Denise in the pics below). Over time, Maria lost her inhibitions and now appears totally tits-out with delightful regularity on the site! Who knows? Perhaps Ms. Milani will, as her popularity progresses, eventually relent and actually show us her boobs!
As much as I don't really understand it, there definitely does seem to be a market for non-nude sites. For example, I know that Belgian big boob queen Cindy Milley does quite well for herself, despite not revealing her nipples. Likewise with little Pixie from Pixie's Pillows (with the exception that you can occasionally catch an eyeful of areola from between her spread fingers). Thus, there have to be big breast lovers who specifically find this sort of thing a turn-on. Eh, I don't know…
…but I do know that, after having received so many e-mails from fans singing her praises, it would be a disservice not to include Denise amongst the models on MyBoobSite. And so, thanks again to the thoughtful contribution of Jazzman (and thanks, too, to her webmaster for granting me permission to post pics), here's budding big boobs supermodel Denise Milani in a selection of photos from her official website – DeniseMilani.com: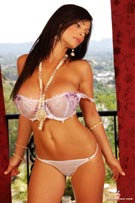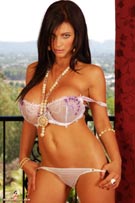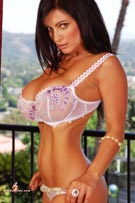 CLICK HERE TO VISIT DENISE MILANI AT DENISEMILANI.COM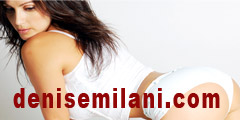 Share and Enjoy
→ Return to MyBoobSite for More Big Tits ←