From Pennsylvania in the US, 36 year old Desiree De Luca (AKA Desiree, Desiree De Lucca, Desiree DeLuca, Boobzilla) is a 34F.
She measures 42-28-36.
Here we have Desiree in – and out of – a bright pink bikini.
I have so much trouble getting a swimming cozzie, and I bet Desiree does too.
The problem is that if you get a swimsuit that fits your boobies, it will be way too big on the bum.
If you get one to fit your butt, then there is no way you can get your tits anywhere near stuffed into it.
So you think that a bikini might make more sense as you could get a different size top half (bra bit) from the bottom half (panties bit).
Of course, as is the way with the world, to get something out of the ordinary, the price is inflated.
It's the same with dresses as well. You need specialist stores to provide you – a big titted woman whose other measurements don't correspond with a huge bra size – with a frock.
Unless you do what I do, which is buy crap on eBay and just hope to God that it's stretchy enough to go around my 42″ chest and yet be a (UK) size 8 (about a 4 in the US, maybe?) on my waist and hips.
Another thing I have been known to do is nip into a supermarket and swap the items on the hangers to make a suitable bikini, for me. I am sure this is naughty, but I expect there are more women with a bigger ass than tits, so surely what goes around…
Supermarket clothes don't last as long as specialist ones, but who cares? For a tenner you can just get another one when the first one breaks, which they invariably do.
Huge hooters. Who would have thought they could be such a nuisence?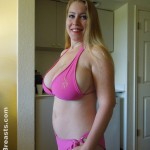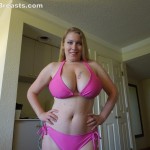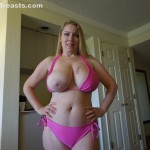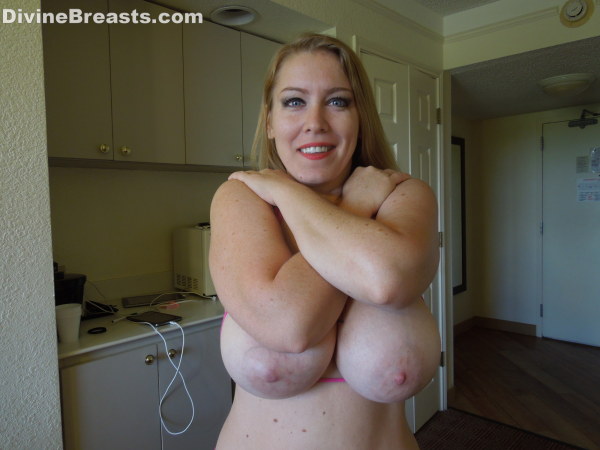 Click here to see even more of Desiree De Luca on DivineBreasts.com


Share and Enjoy
→ Return to MyBoobSite for More Big Tits ←