BREAKING BIG BOOBS NEWS: Great news, boys & girls – udderly amazing K-cup newcomer Dors Feline has her own site!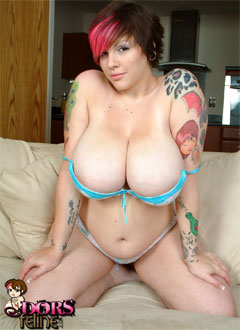 An inevitability, to be sure, especially after all of the positive comments she received on my Dors from GodsGirls blog, not to mention the lovely Ms Feline herself popping in to alert us that her personal website was in the works…
Dors Feline wrote:

Well boys i have to say im blushing with your beautiful comments! Godsgirls was my first home for modeling and i have to breakt the news that the set is amature, its a diy that the site gets models to shoot in their own home , what your seeing is a sneek preview of my actual bedroom!

I have been discovered luckly enough by candy girl productions and im currently waiting for my solo site www.dorsfeline.com to go live in the next week!

can i count on you guys to come over and see me there? ive done some sexy shoots but the videos…ooooOOOOO wow!

love to you all!

Dors Feline

xxxx
…well, Dors, I think you can safely count on all of us dropping by for a housewarming visit to your new home on the 'net! It's not often that such a stunningly beautiful big tits treat like yourself comes along – especially not one so extremely well-endowed with K-cup breasts – so you can certainly expect to feature regularly here on MyBoobSite!
But massive breasts aside, this gorgeous girl has got it going on all over, from her short & sassy two-toned goth chick chic hair to her cute face with its sultry, sexy smile to her beautiful busty voluptuous body all the way down to her pretty pierced pussy (and I must admit that lovely Dors' frequent pussy flashing pics are amongst my favourites of all!).
And so, I'd thrilled to help spread the huge boobs news that the newest big breast sensation super busty 34K Dors Feline has a website of her very own as celebrated in these sexy big tits photos & videos from DorsFeline.com:
34K Dors Feline photos from DorsFeline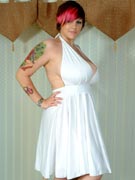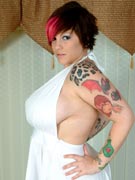 34K Dors Feline videos from DorsFeline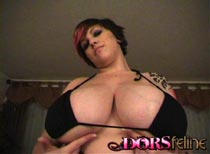 (note: actual photos available for download at the site are 1600×1066 resolution)
CLICK HERE TO VISIT 34K DORS FELINE AT DORSFELINE.COM

Share and Enjoy
→ Return to MyBoobSite for More Big Tits ←