Yes, yes I do!! [And thanks for asking!]
Ever since Ashley became my new big tits blonde standard, I've harboured the fantasy of seeing this not-so-little well-endowed teen totally nude. Does this make me a dirty old man? I mean, the youngest female I've had the profound pleasure of enjoying stark bollock naked in recent times was this beautiful 22-year-old goth girl we'd encountered whilst playing at a sex club, but Ashley's just nineteen years old at the moment, dammit!
I know a mere three years shouldn't make that much difference, but it does to me. Whenever I come across a model who's in her teens, this whole "gosh, I'm old" gloom begins to descend down upon me. However, with innocent Ashley, I just want to look at her and worship that stunning voluptuous body – nothing more. Is that so wrong for someone of my rapidly advancing age? I certainly hope not, 'coz I'm gonna do it anyway! ;~P
My dream of Ashley nude came one step closer to reality when she'd posted her most recent pics skinny-dipping in the pool. Although she does get completely naked in this series, the refraction of the waves upon the water restricts the detail a bit and I can't enjoy the unfettered view of an unclothed Ashley that I crave. Still, I can't let a little liquid dampen my excitement over getting to see this beautiful, buxom babe of my dreams au naturel for the very first time.
Indeed, some of the shots are so positively breathtaking that they inspire fantasies of their own. Seeing Ashley's buoyant boobs floating atop the water just makes me want to jump in and position my nose between her cleavage for a close-up view of her nipples bobbing and bouncing in the periphery. That "udderly" incredible sidewinder-shot sends shivering visions of aquatic spooning through my JJ-cup boob-addled brain. And don't even mention the photo of lovely Ashley on the ladder as, if I squint real hard, I imagine I can snatch a glimpse of the slit of her pussy waiting for me there beneath the waves (although the sheer improbability of the subsequent underwater cunnilingus fantasy that photo inspired kinda threw a wet blanket on the proceedings from that point forward).
*sign* Alas, it appears as if I may be a dirty old man after all! Then again, I suppose there's nothing perverse about having a healthy fantasy life to keep the libido humming along nicely. And so, I don't feel bad in sharing these photos of gorgeous 32JJ wet-dream teen Ashley for you perchance to concoct a few fantasies of you own courtesy of DreamOfAshley.com: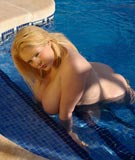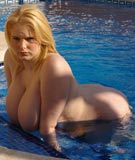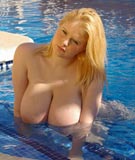 CLICK HERE TO VISIT 32JJ ASHLEY AT DREAMOFASHLEY.COM

(webmasters)
Share and Enjoy
→ Return to MyBoobSite for More Big Tits ←