This blogging lark is truly the life: I get to sit at home, perv over porn all day, chat with models and just generally talk about tits – my favourite topic. To be perfectly honest, when I started MyBoobSite back in September of 2005 (as inspired by the wife's charity site), I had no idea it would turn into my full-time occupation. Don't get me wrong – it can be hard work sometimes, requiring a fair degree of dedication – but it's also profoundly profitable. The most important aspect, however, is that it's a lot of fun (and, quite frankly, I'd still do it even if there weren't the financial rewards involved).
The reason I'm admitting all of these superfluous details is that I've recently struck up a partnership with TheBreastFiles in order to offer the joy of blogging to everyone. Now, I know that some of you are perhaps even more passionate about big breasts than I am, and many among you are quite good writers judging by the copious comments you post here (yes Very Free, Vadd, Charles, et al, I'm talking to you). So, rather than venting your frustrations or professing your praise as a postscript to my posts, why not try your hand at authoring a big boobs blog of your very own?
I don't mean this to sound like a sales pitch (which it is), but we've made it as simple as possible for new bloggers to get started. I've begun composing a Blogmasters' FAQ wherein I'll be posting tips & hints on making the most of your blog and we've assembled an extensive list of over 100 sponsors from which you can get your photo & video content (as well as from whom you'll make your money). What's more, you'll get the built-in benefit of the million+ visitors a month the site already receives. Perhaps the most enticing incentive, though, is it's totally free.
Whilst you ponder that for a moment, let me move on to yet another hidden agenda behind this blatantly promotional post: I've got this mate named Peter within whom I'd recognised a goodly measure of blogging skills. The sad thing about Peter, though, is that he's not particularly fond of big breasts (the bloody heretic!) and thus wasn't entirely appropriate for the big tits niche intrinsic to The Breast Files. Thing is, I'd promised to help get him started in blogging, and so I'd like to take this opportunity to give a shout out to Peter's new TeensBlogger.com site…

…especially since he did acquiesce to my big breast fetish by blogging the stunningly beautiful 32HH teen Ashley from DreamOfAshley.com… ;~)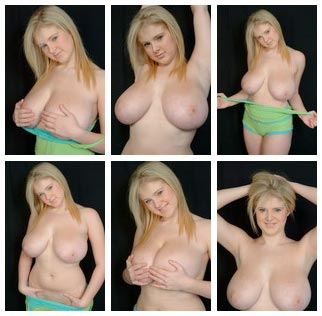 …my promise fulfilled and moving back to the business at hand, if you're truly interested in becoming a boob blogger, all you need to do is have a gander at my Blogmasters' FAQ and read the rules, then it's a mere matter of clicking the button below to enter the wonderful world of blogging:

Share and Enjoy
→ Return to MyBoobSite for More Big Tits ←