Ever since I blogged busty Japanese AV idol Fuko and despite having had to remove her topless photos from the post, it's been my most searched blog in terms of Google results. And so, having just received some splendid video galleries of this remarkably busty Asian babe, I thought I'd make a blatant attempt at breaking the past record!
Ah, but first, a few fine Fuko photos to get things warmed up a little…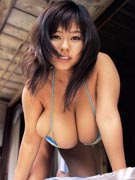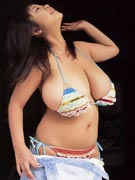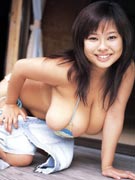 …(now, be honest – is it just me, or does that middle photo above bring to mind an Oriental version of Rachel Aldana?).
Measuring in with massive P-cup breasts (considering that Japanese cup-size standards are dramatically different than our own), I have to say that Fuko has the biggest tits I've ever seen on an Asian girl. While there are countless keywords I could pepper throughout this post to increase Google rankings – big tits, huge boobs, large breasts, massive mammaries, colossal cleavage, gigantic juggs, enormous knockers, et al (not to mention numerous ethnic references due to the rarity of busty Japanese women in porn) – there's really nothing else that's quite so effective as the mere mention of Fuko. ;~) So I'll not belabour the point with my usual incessant ramblings and instead move right on to the lovely new Fuko videos at Busty Asians: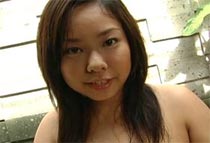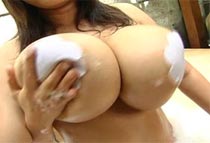 CLICK HER TO VISIT JAPANESE P-CUP FUKO aka LOVE AT BUSTY ASIANS

Share and Enjoy
→ Return to MyBoobSite for More Big Tits ←