Of all the 30JJGC Kittens, none is such an enigma as Gabrielle. I realised this whilst preparing the models' initial entries in our hallowed "Hall of Kittens" nestled within MyBoobSite's yet-to-be-launched boob lovers forum. [Btw, if you've been a regular poster on MyBoobSite and would like early entry into our fledgling forums to begin posting, just e-mail me or leave a comment here with your correct e-mail address (don't worry, it won't appear in the comment) and I'll send you the access details.]
First off, I've only made two posts about her (here & here). Secondly, she goes by three different names – Gabrielle, Lucy C & Ala Passtel – at the various websites upon which she appears. But worst of all is the confusion over her bra size – she's listed as a 32E at XX-Cel, has F-cup breasts as far as MC-Nudes is concerned, was upgraded to a G-cup by Busty.pl and then demoted to a mere 34D at DDF Busty! However will we be able to assemble accurate stats for her Kitten bio?!
However, having now witnessed the lovely Gabrielle wielding a tape measure against her breasts, it's no wonder no one's arrived at accurate mammary measurements! If we go by photos 7 & 9 below – where she's measured her bust line of 81cm with an under bust girth of 69cm – applying MyBoobSite's bra-sizing standards would yield an inaccurate A-cup at best!! She really needs to take up the slack in #9 and let loose a bit on #7 so the tape's not squishing her tits.
*sigh* Oh the trials and tribulations of trying to preserve some semblance of accuracy on one's boob blog. Anyway, here are are the photos of gorgeous Gabrielle measuring up courtesy of XX-Cel.com: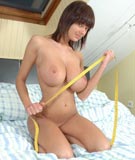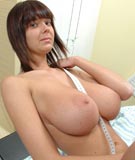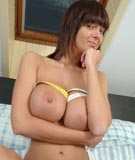 (note: actual photos available for download from the site are 1600×1064 resolution)
CLICK HERE TO VISIT GARBRIELLE AT XX-CEL.COM

Share and Enjoy
→ Return to MyBoobSite for More Big Tits ←