Back on my Big Black Mega Breasts in Bed with N-cup Cotton Candi blog, My Boob Site reader Dan commented, "I'd love to see a video of her smothering a guy with her breasts," and, in reply, I promised I'd try to fulfill said breast fetish fantasy. And so, I began trolling through the Cotton Candi archive at Plumper Pass to see what I could find, tits wise, and came upon some pics…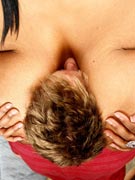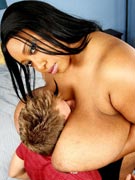 …but that's not a gigantic tit smothering video now, is it? So I downloaded the full 40 minute movie and began to fast forward in search of more big black boob smothering video scenes, only to find a colossal cleavage CMNF clip of Cotton Candi squeezing her huge tits around her dry humping fuck buddy's head as if he's trying to titfuck her with face instead of phallus…
Loading the player…
(click here to download video clip)
…which is more like a massive mammary motorboating movie moment with a bit of big breast smothering thrown in for good measure toward the end. So, Dan, is that enough to satisfy your desires? Personally, I'd prefer to be smothered by gigantic tits in my face in a more supine sexual position, lazy large breast lover that I am, whilst wet humping rather than dry in the nude feeling heavy weight breasts bearing down upon me from a well-endowed woman on top with more boobs to face interface than in my big tits cowgirl style sex clip from her Cotton Candi hardcore video from PlumperPass.com:
Loading the player…
(click here to download video clip)
P.S. Oh, and this is a bit off my big tits smothering topic, but wanna see what happens when super busty cowgirl style sex goes tits up for N-cup Cotton Candi in her latest hardcore video for those PlumperPass peeps?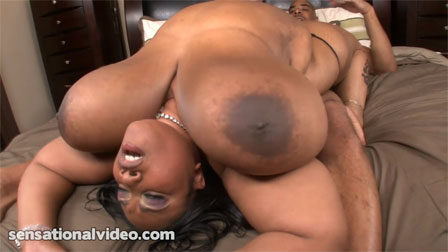 (or click here for mobile phone compatible gallery)
CLICK HERE TO VISIT N-CUP BBW COTTON CANDI AT PLUMPERPASS.COM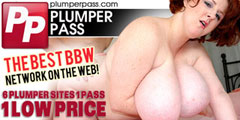 (webmasters)
Share and Enjoy
→ Return to MyBoobSite for More Big Tits ←