Aaah, 69! How we love thee, no? Well, no, to be honest.
I'm a woman, as you possibly know if you've been paying attention to anything I or my husband say over the last few blogs, and as such am supposed to be able to multi-task. And I can. I really can, but not when someone is sucking my snatch. Seriously, if I am going to get any enjoyment out of a clever cunninglinguist, I cannot be wasting valuable neural transmitters on making sure they are getting a decent seeing to from my oral orifice.
Likewise, if I am doing just that and sucking and nibbling and slurping the very life-force out of a pulsing prick or willing, wet, woman-wound, I expect them not to be able to hold concentration of anything else in their heads, at that given time, let alone giving head themselves, no matter how much my quim might quiver at the thought.
Of course, that doesn't mean watching someone else having a good, combined head session isn't horny as hell. It is. Especially when it's Maggie Green sitting on your face, 36F tits nestled against your stomach and expertly face-fucking your own willing gonads.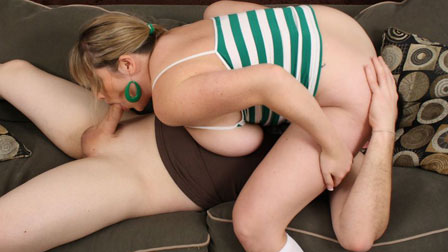 Personally, where as I have had head from a couple of three women before, I have never had a blow-job (yes, I am stealing that term for women, too. I don't see why it should be gender exclusive) from an actual lesbian. I suppose you might think that any woman that does that to another woman is a lesbian, but no… there are those of us that are bi- and those of us that are something a good friend of mine calls "situationally bi-" . That is, when the opportunity arises and you're both feeling it… why the hell not? It is NOT about titillating any menfolk that might be around, it is all about copping off with someone you fancy, regardless of their being a different sex to that that you might normally spend the evening with.
Now, I am not particularly adept at drinking from the furry cup, myself. Whereas I have had a great deal of experience of sucking cock (I don't like calling it that, there is so much more to it than sucking, if you want to do it right, after all), I have not had that much experience of pussy pleasuring, and as such, I think a man would do a better job. That is also my experience of the (sort of) straight women that have had their faces in my flange. Whereas there are obviously some that are just crap at it, generally speaking: Men do it better. They have had more experience. A woman has never made me wail and moan and lift my body off the bed in willing wantonness like a man has.
And men do not tend to have long nails. Long nails are not the lady-lovers' friend.
All of which brings me to the video clips I have here, that Reese has kindly sent me, for your viewing pleasure, from MaximumMaggie.com
Loading the player…
(click here to download video preview)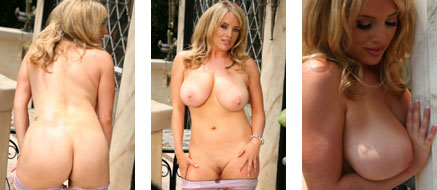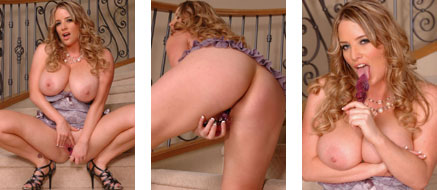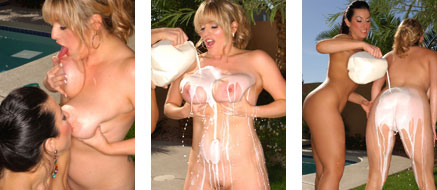 CLICK HERE TO VISIT 36F MAGGIE GREEN AT MAXIMUMMAGGIE.COM

Share and Enjoy
→ Return to MyBoobSite for More Big Tits ←