Blimey! It's been three weeks since I blogged Hitomi Tanaka's Score debut…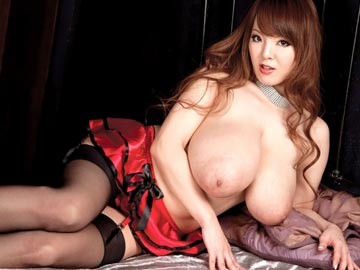 …to the hope of seeing our slim & stacked J-cup busty Japanese AV Idol do some uncensored Asian hardcore for a change. We're still waiting, though, and, quite frankly, I must agree with the large breast lovers' consensus that any hardcore Hitomi Tanaka does for Score will be tame when compared and contrasted to her prior body of porn work.
For those unfamiliar, Hitomi is known for having done some fairly extreme porn in the past (her group sex specialty being big boobs bukkake, btw; and no wonder, really, as it seems only natural since the phrase "Hitomi Tanaka Bukkake" trips off the tongue so easily), so I suspect even the fucking shall appear somewhat softcore by comparison.
Take, for erotic example, when Ms Tanaka went for a nice, relaxing massage but, rather than getting the tantric type, instead finds a perverted procession of sex pest strangers entering the massage parlour to "lend a helping hand". All well and good, although the sexual excitement of fondling her glistening nude body soon proves too much for their boners to bear, so they whip their cocks out and start jacking off to cum on her face one by one (but, because this is My Boob Site, I'll focus on the oily breast massage and big tits group grope aspects to spare you the more extreme bukkake bits) in this Hitomi Tanaka bukkake video from Busty Asians…
Loading the player…
(right click here to download video clip)
…and, speaking of contrasts (you didn't think I'd just leave you all in a sticky bukkake situation with the whole hardcore vs softcore debate going on, did you?), it strikes me that I've only been boob blogging super busty Japanese babe Fuko in a hardcore porn context of late. So, just to show softcore and hardcore can co-exist peacefully on the same site, here's a sampling of what I'd consider to be at the extreme softcore side of the big tits porn spectrum – a preview of what I'd call her extra soft In Bed with Fuko video – likewise courtesy of Busty Asians at Lusoporno.com:
Loading the player…
(right click here to download video clip)
CLICK HERE TO VISIT HITOMI TANAKA & FUKO AT BUSTY ASIANS

2257
Share and Enjoy
→ Return to MyBoobSite for More Big Tits ←