Just wanted to take today to introduce the latest busty Japanese sensation…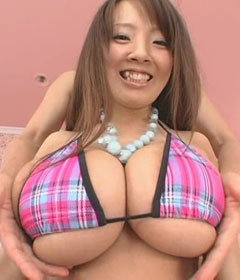 ….whom I'd discovered after receiving the following e-mail from Jazzman…
Jazzman wrote:

I just wanted to forward this name: Hitomi Tinanak

She's a Japanese Gravure model. She just crossed over into AV territory, though! YES, her massive japanese cum-kamikazi targets are on display!

Check it out and let me know what your thoughts are!
…well, Jazzman, my first thought, put succinctly, is "Wow!!" Not since Fuko have I seen such marvellously massive breasts on an Asian girl! A most rare and stunning sight to behold indeed. My second thoughts, however, centre upon their culture's obsessive compulsion to obscure genitalia in Japanese porn (for legitimate legal reasons, I know) which, quite frankly, reminds me of the "What have we pixellated?" round on British music quiz show Nevermind the Buzzcocks. I want to see penetration, dammit!
Nonetheless, I suppose I should respect their cultural mores and do my best to look past the pixellation of penis & pussy. After all, just finding Japanese girls with tits that big is a scarcity, to say the least, let alone getting to see her fucking! And so, a few more photos of beautiful busty Asian babe Hitomi Tanaka nude and having sex at LusoPorno's Busty-Asians…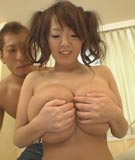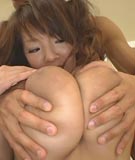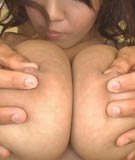 CLICK HER TO VISIT HITOMI TANAKA AT BUSTY ASIANS
…oh, and I posted that second to the last pic specifically for Frank's benefit, just to show that Hitomi's a squirter! ;~)
On to the videos, I thought a nice random selection of busty Japanese girls in sexual situations might round things off nicely. Thus, closing out today with copious cleavage, here are a few sundry video galleries selected for your viewing pleasure once again from Busty-Asians: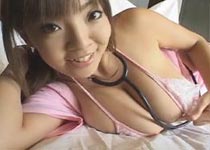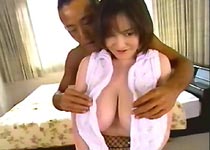 CLICK HER TO VISIT LUSOPORNO BUSTY-ASIANS

Share and Enjoy
→ Return to MyBoobSite for More Big Tits ←