Christmas cums early for My Boob Site this year as, unlike breast recessions of past holiday seasons, there seem to be plenty of festive breasts to blog! So let's kick off our seasonal big boobs buffet of Christmas tits with…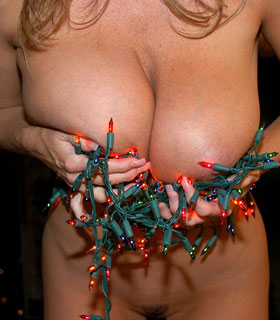 …some lovely large breasts with Christmas cleavage illuminated by colourful fairy lights courtesy of my 2nd favourite busty MILF super slut of all time, Kelly Madison (continuing in the holiday tradition of her having served up a healthy FF-cup portion of Thanksgiving tits for us in 2006 (and why don't they call it turkey tits instead of boring old breast meat? it would be far more fun to eat turkey tits and tater tots for Thanksgiving dinner, don't'cha think?)).
Anyway, we join our sexy Christmas MILF trimming the tree in the same fairy lights that were colourfully illuminating her boobs earlier until the sexual frustration of being tied up with electrical cords gets the better of her pretty pussy with those killer large labia lips swollen in the erotic excitement so she takes a well-deserved lady-wank break masturbating on the floor in happy horny holidays Christmas masturbation photos from KellyMadison.com…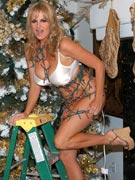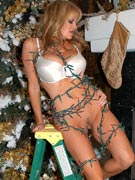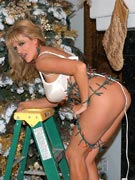 …moving on to what inspired me to my I Saw Mommy Fucking Santa Claus moment, the following festive fuck fest might be more aptly entitled How the Grinch Stole My Virginity (as if our busty super sex slut Kelly is a virgin in any sense of the word) and, as sexy Christmas curiosities go, this is an strange one indeed! Rather than resorting to the tradition of leaving milk and cookies by the fireplace, naughty nympho Kelly instead finds it far more satisfying to bribe Santa Claus with a blowjob before inviting the jolly old elf to cum in her pussy for Christmas coitus a la carte!!
Fair enough, and having a busty elf girl suck my cock on Christmas morning before the traditional Christmas fuck is by far the best Christmas present a horny old pervert like me could ever hope for since, wrapped or unwrapped, genitals are truly the gift that keeps on giving, but doesn't Kelly's bizarre upbraided hair make it look like she's somewhat surprised that Santa Claus has a penis? And the only thing she's missing on her head whilst giving head are some gossamer golden wings to stick in her bobble-topped cone-head hairdo to turn it into a blonde angel Christmas tree topper!
But before I digress even further into the horny hardcore holiday spirit of the season as voluptuous visions of big breasts and pussy flaps dance through my head (now that'd be something to see!) and start making silly seasonal sex jokes like, "Santa cums but once a year," here's our ever beautiful busty MILF Christmas slut Kelly Madison proving once again that tits the season to be jolly in these Merry fucking Christmas sex pics from KellyMadison.com…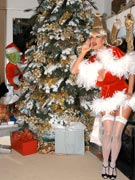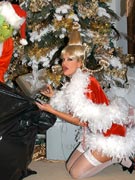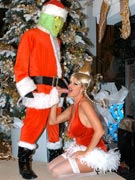 …and, lastly but not leastly, having celebrated our horny holidays with Kelly Madison from the nude Christmas Eve decoration of her tree to her Christmas morning secret Santa fuck on through to the erotic Christmas evening wherein we find Kelly giving a holiday handjob (yet another ideal Christmas gift, imho). And, speaking of seasonal silliness, I can't believe Kelly actually says, "Santa likes if when I'm a big ho, ho, ho," whilst jacking off cock! Personally, I take that as lewd and lascivious license for more carnal Christmas humour on my part and don't feel at all bad about seeing our sexy elf girl squeezing her tits together for a festive Christmas titfuck and thinking aloud, "Now that gives a whole new meaning to chest-nuts roasting on an open fire!" I'd best stop now before they start fucking so you can enjoy Kelly's cock-filled Christmas cunt in peace (hmmm, tasty Christmas cream-pie for dessert, anyone?). Once again, here's the incomparably stunning 34FF Kelly Madison fucking away in Merry Christmas porn videos from KellyMadison.com: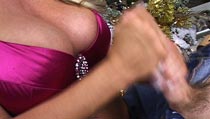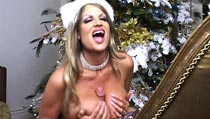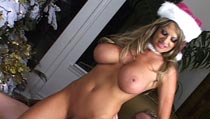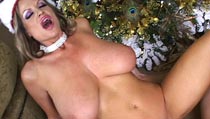 CLICK HERE TO WISH 34FF KELLY MADISON A MERRY CHRISTMAS AT KELLYMADISON.COM

(webmasters)
Share and Enjoy
→ Return to MyBoobSite for More Big Tits ←